Eco Committee
Here at Cranborne we are dedicated to improving the environment we live in, both within the school grounds and the wider community.
The Eco Committee is made up of children across the school from years 1-6 elected by their peers.
They meet roughly once a half term to devise new tasks for the coming weeks.
This year we have a rather major project we are working hard at. The Eco Committee have decided to renovate and rejuvenate the schools pond and nature area. They have worked hard litter picking, coming up with ideas and sowing seeds. Lots of the children came along to our community events in February - Cranborne Big Dig and Big Build.
If you would like to help support our work please do come along to our next event
or, if you are able, please donate to our GoFundMe page, found on the schools main page.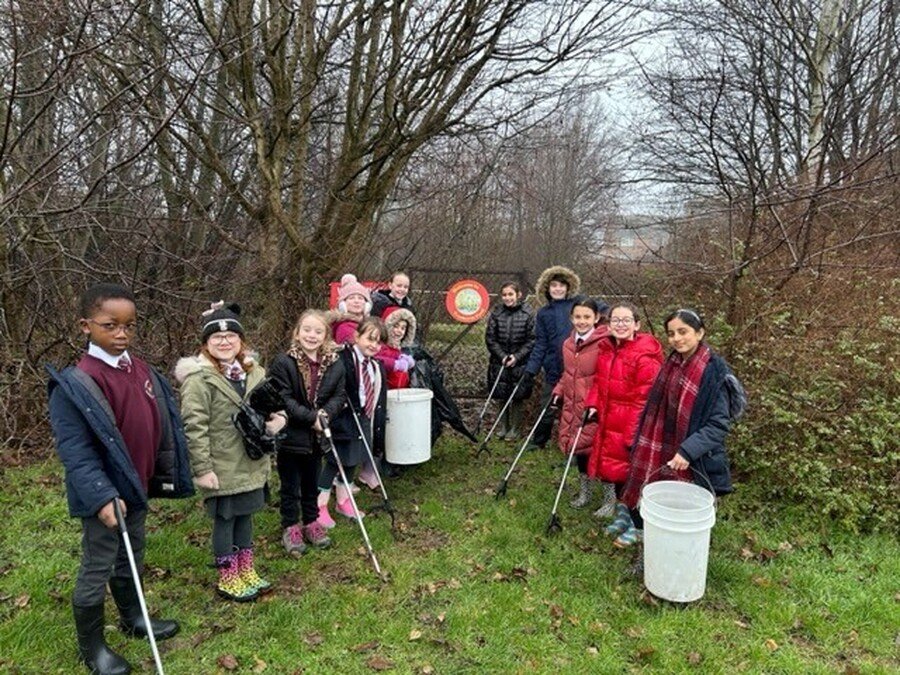 Spring Update - March 2023
This term we have seen many changes to our schools pond area. Shortly before the Christmas break, we welcomed the Herts Wildlife Trust to survey the pond area and provide advice on what we needed to do to support the wildlife and enhance the environment. As a result, in January, our grounds maintenance company came and cleared lots of overgrown brambles and cut the grass to make the area accessible.
In February, we held our community events; Cranborne's Big Dig and Big Build. We had great support from our school community and local people, volunteering their time and resources. We made huge progress and created a wonderful dead hedge as part of the new fencing, a new secure gate and the beginning of our pallet mural and new fencing.
In March, we welcomed many visitors to our pond and nature area, including some returning wildlife which we are immensely excited about. We have pairs of ducks, newts and elsewhere on the school grounds nesting bluetits. We were lucky enough to have support from local gardener and businessman Antony Henn, owner of Garden on a Roll, who has donated a Wildflower meadow and trees to our pond area. He came and worked with our Eco and School council children to show them how best to sow seeds and discuss the importance of choosing the best plants for the environment.
In the background I have been running a few school events to raise funds and resources for the pond; Cranborne Rocks – where the children were invited to find and paint a stone or rock to donate to our rock garden in the new sensory garden area of the nature area. We also asked for children to collect bottle tops to put towards the development of the pallet mural. This week we have begun painting the mural, and the children and staff have voted on their favourite nature quote to add to it.
We have lots more exciting events in the coming months. Including another opportunity for the parents and families at Cranborne to get involved. Please keep an eye out for more dates in the future.
Please keep sending in your rocks and bottle tops,
Have a fab Easter
Mrs Holt