Celebration Assembly 23 November 2017 with Mrs Keilty
It's been another busy week in school with lots to celebrate in assembly.
Taylor and Elizabeth in year 2 and Oskar in year 3 earned certificates for their hard work in Mathletics. Olivia in year 2 was awarded her 5m badge in swimming and Ruby H in year 5 received a medal for her hard work in Karate this week. Max in year 3 turned 9 and received his copy of First News.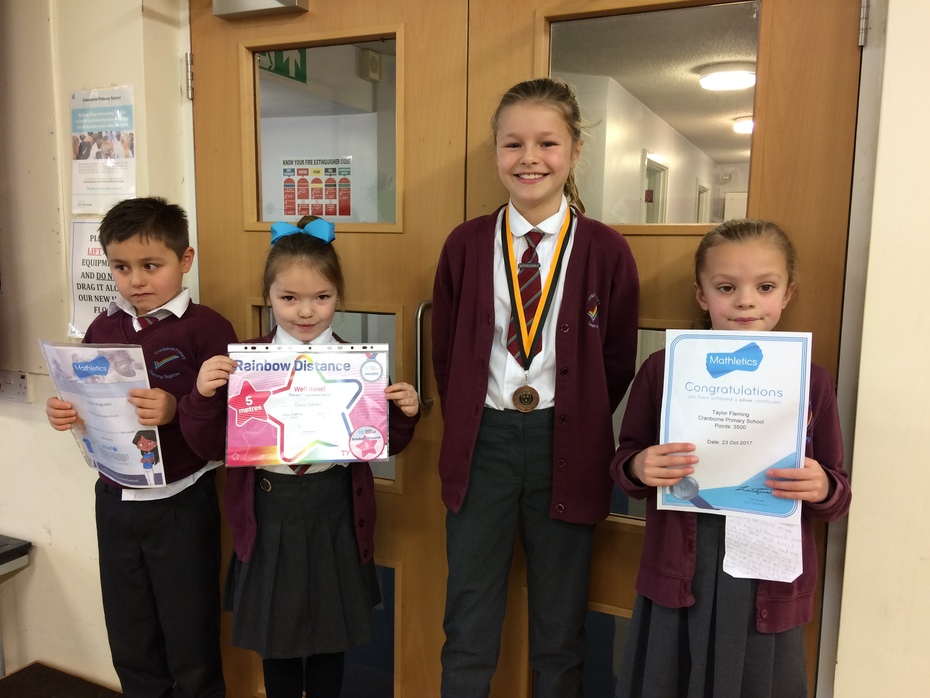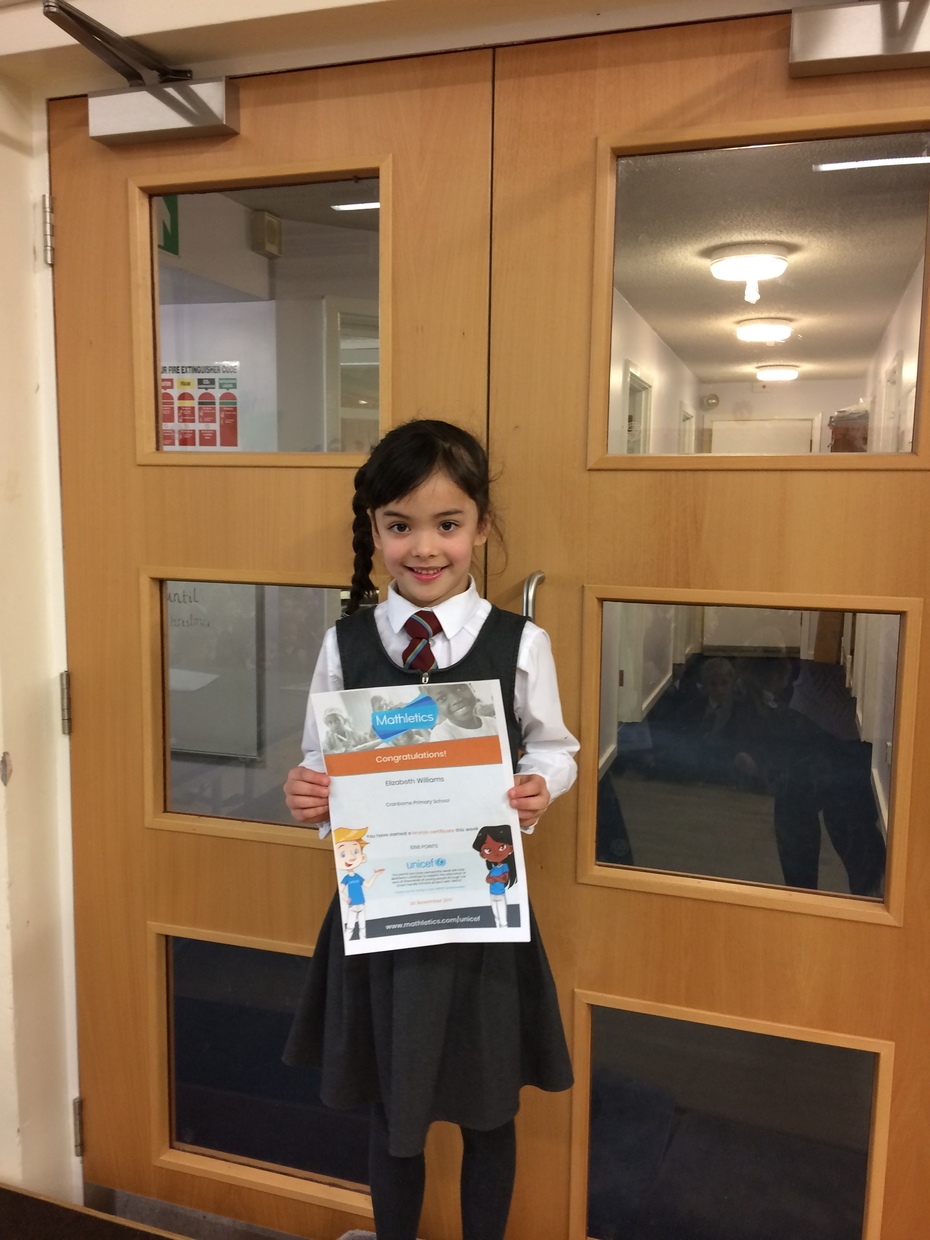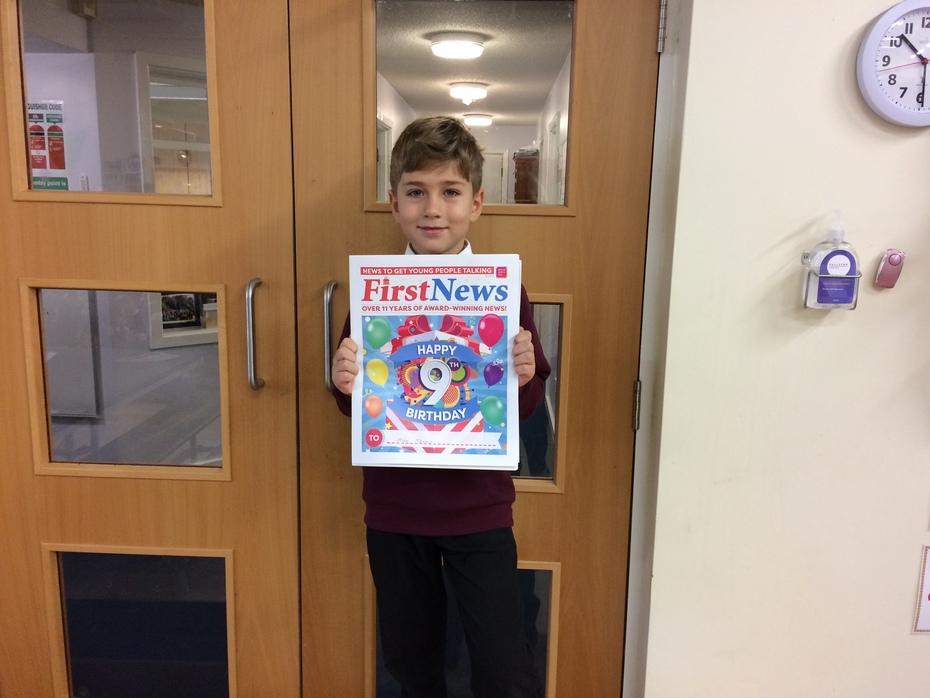 A big round of applause for the athletics team in year 4, who won the cup at the Athletics Festival at Dame Alice Owen's. They competed against Pope Paul and Little Heath in obstacle races, hurdles and relays.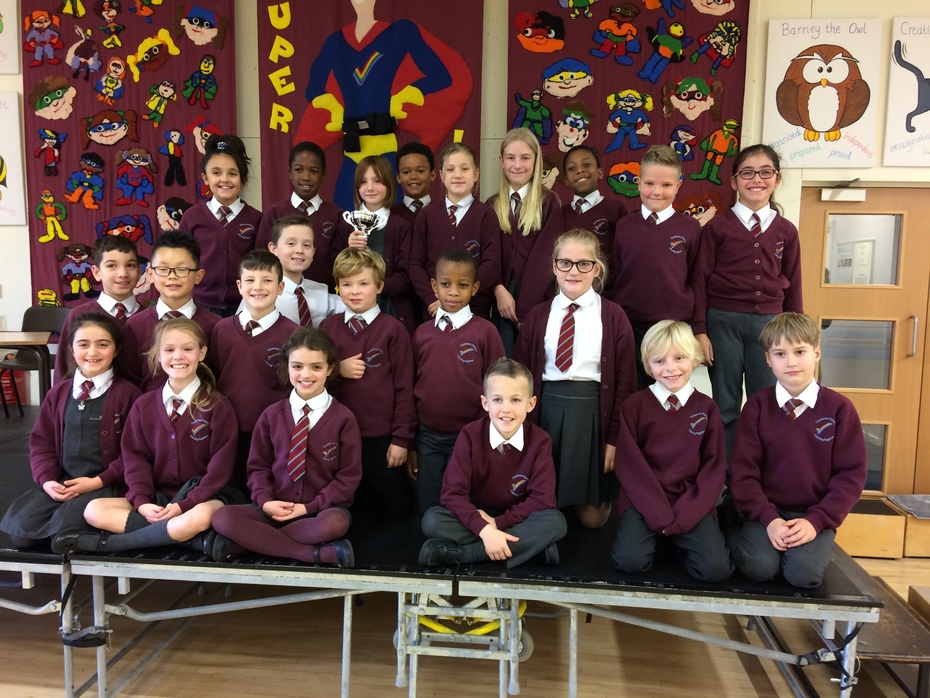 As part of their homework, the children in year 2 had to design the front cover of the programme for their forthcoming Christmas production. There were so many wonderful drawings to choose from. The winners were Rona and Faris, and the runners up were Luca, Ewan, Maheesha, Oliver and Amy.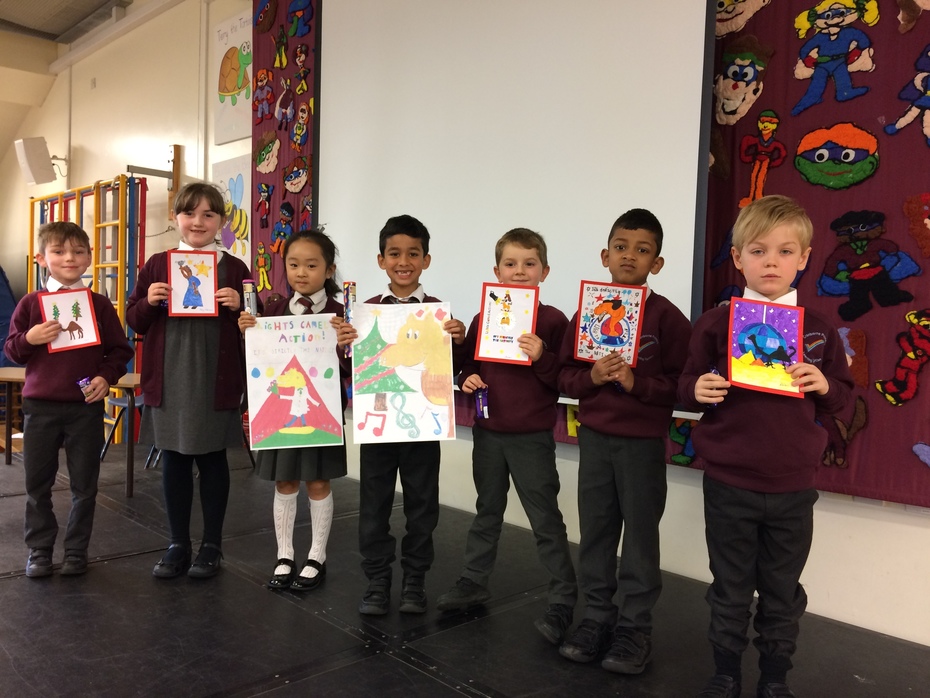 In year 4, Zara and Alexander have been working hard on their Maths.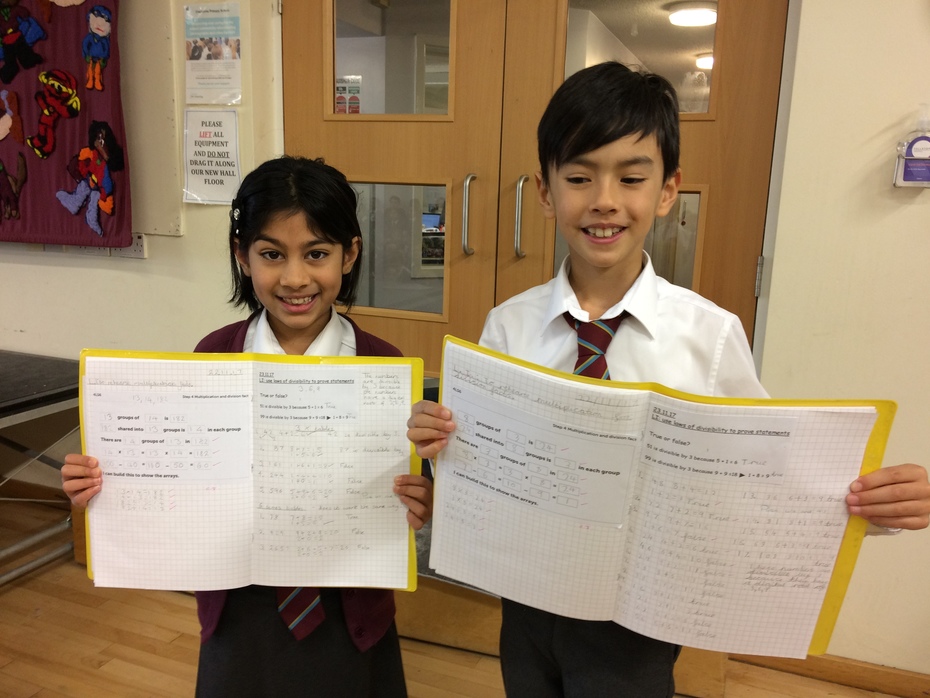 The year 5 children have been working on their persuasive writing, and tied this in to their work on different types of government. Max, Daniel, Nathan, Mathilde and Binuk shared their work with us.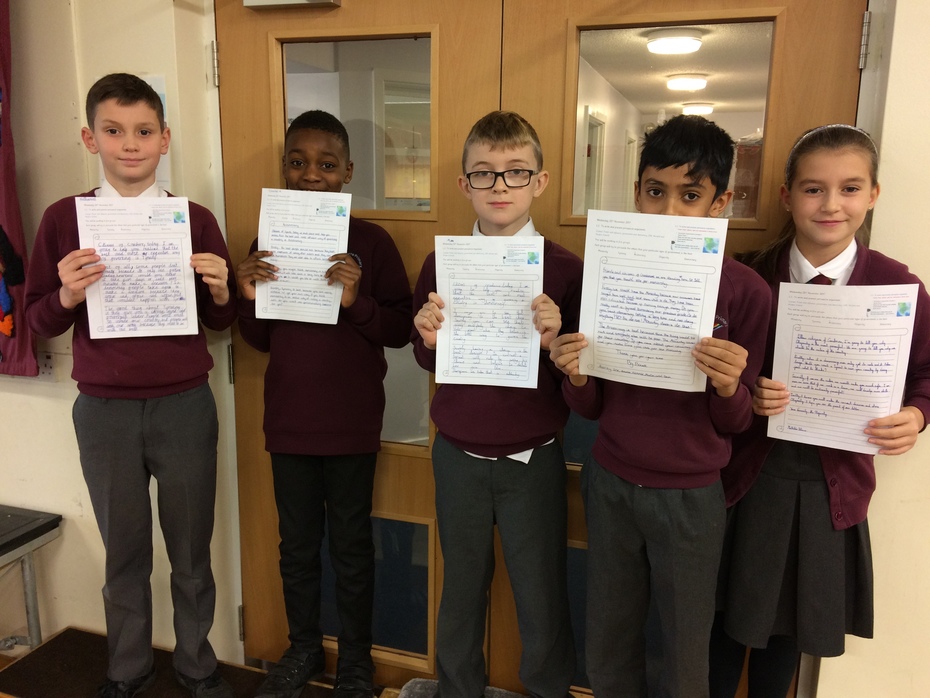 The focus for Year 6 has been on their literacy and writing skills, and applying them in a historical context – James, Rory, Grace, Izzy and Amelia showed us their wonderful work.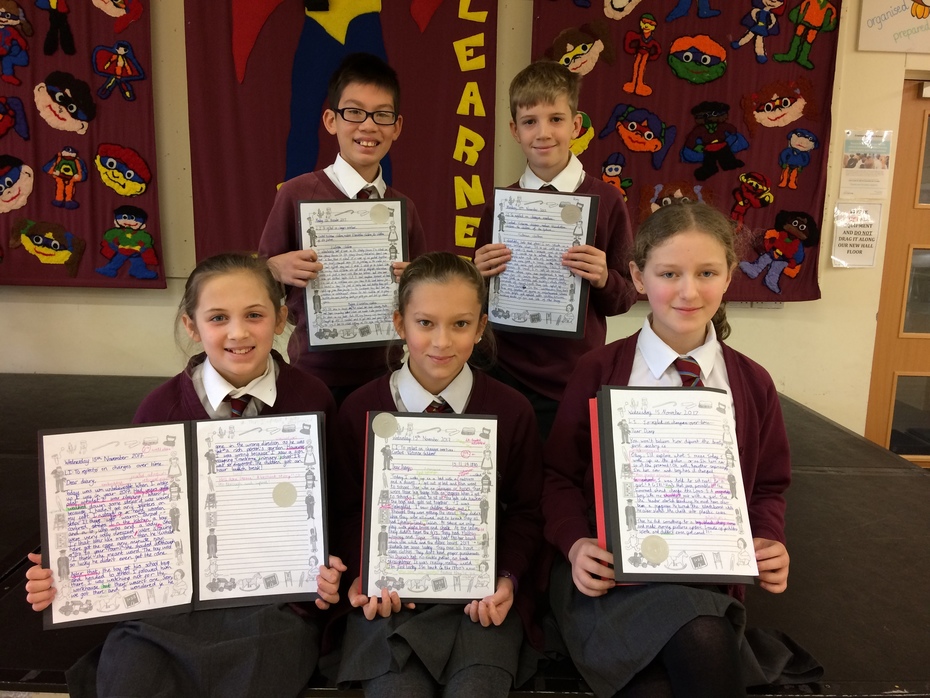 Well done to all the children who shared their work with us this week!
Have a lovely weekend
Mrs St Pierre
Celebration Assembly 16th November 2017
Our celebration assembly this week was opened by Evie and Ella in year 4 who showed us their wonderful dancing and singing routine to 'can't stop the feeling'. It certainly put everyone in the mood for celebrating all the wonderful achievements the children have made.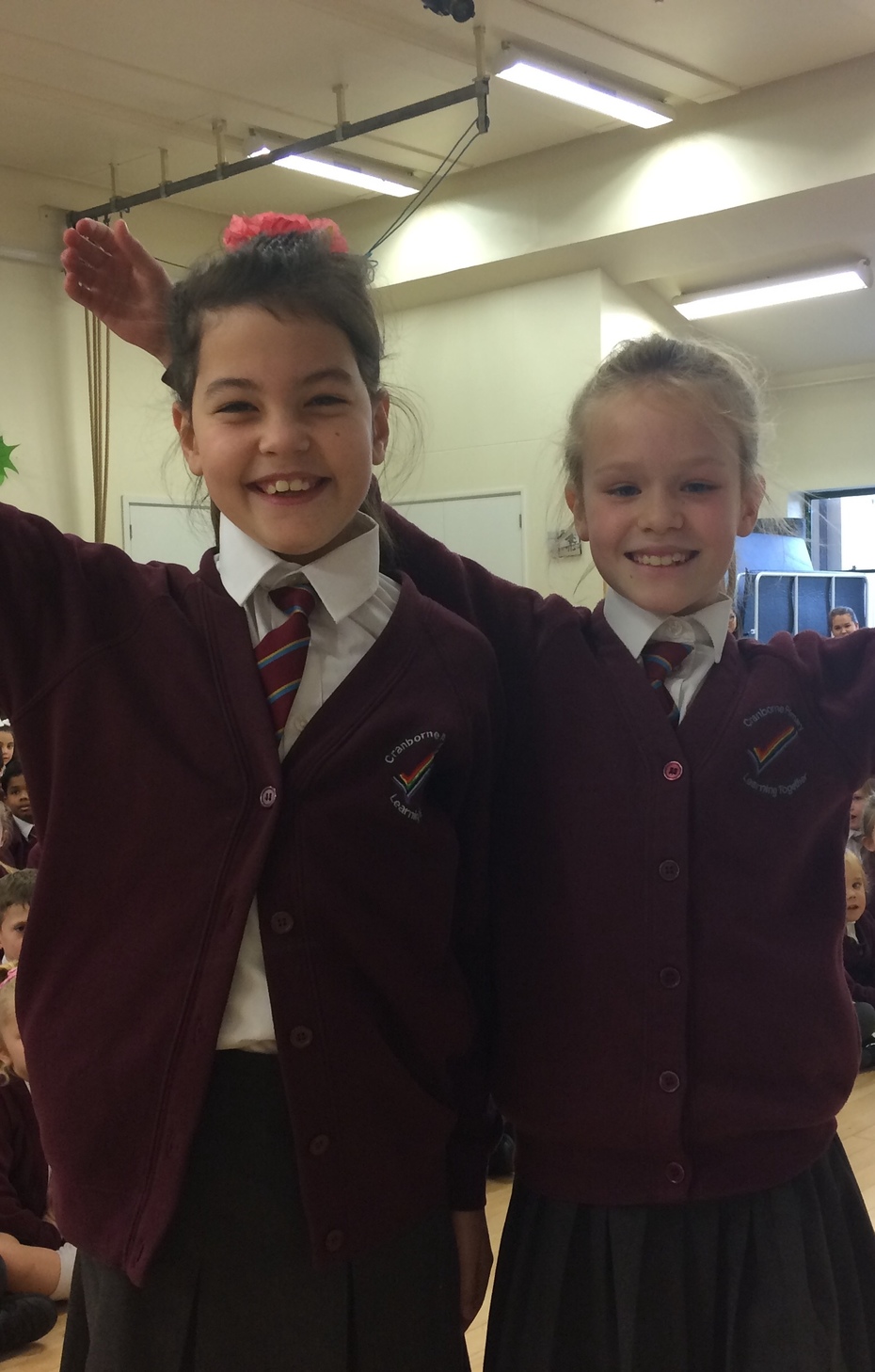 We had certificates for Mathletics for Margaret in year 2, Gymnastics awards for Joshua in year 2 and Alexis in year 3, and a Trampoline award to Joshua in year 4.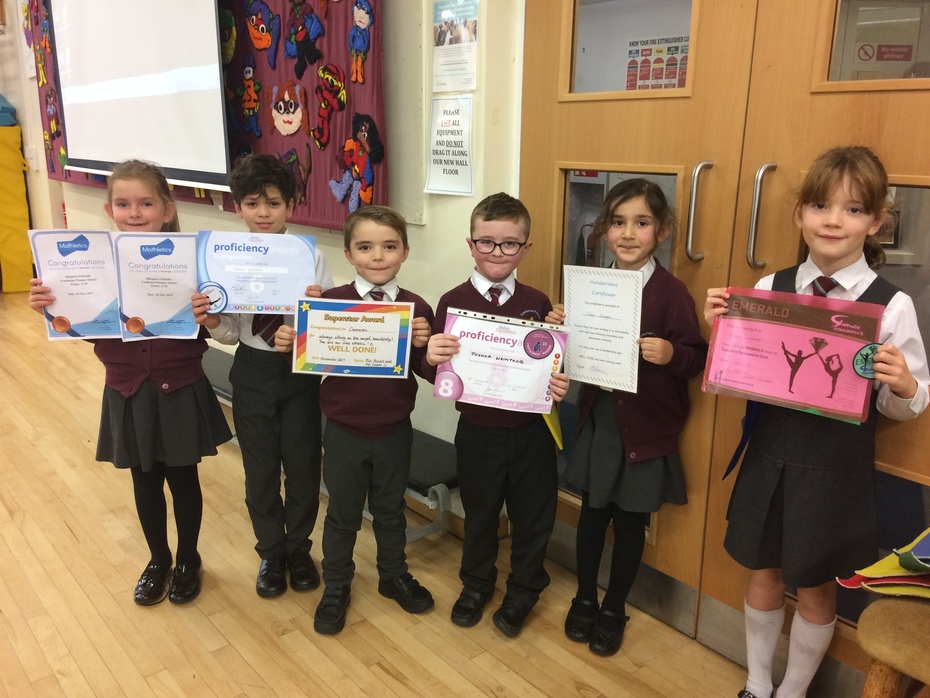 Well done to Cameron in year 2 who had a Superstar award for sitting beautifully on the carpet in class, and also to Selin in year 2 who has been awarded her pen licence. Faris in year 2 is also being awarded his pen licence.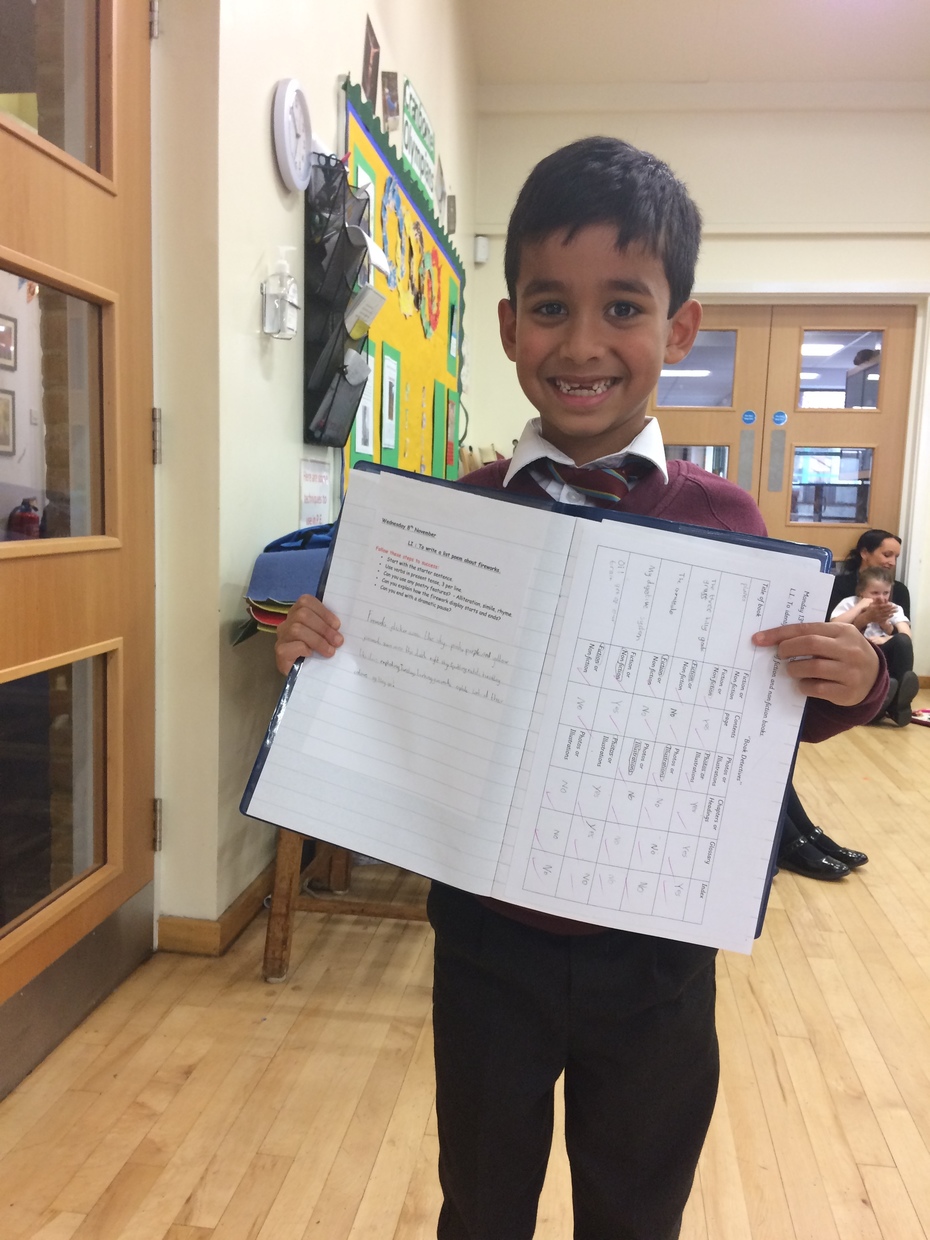 Across the school, the children have all been working hard. Year 3 are working hard in moving around the classroom from the carpet to the tables more smoothly so as to have more time to learn, and year 4 are trying hard to achieve their class targets. The children in year 5 have been learning about multiplication. Although it is challenging them, they are all thinking positively and telling themselves, not that they can't do it, just that they can't do it yet!
Year 6 children have been busy on their 'read theory' app and improving their comprehension skills. A special mention to Tazeem, Luke, Sonny, HauHau and Sofia – she has answered over one hundred questions in the last week. Well done indeed!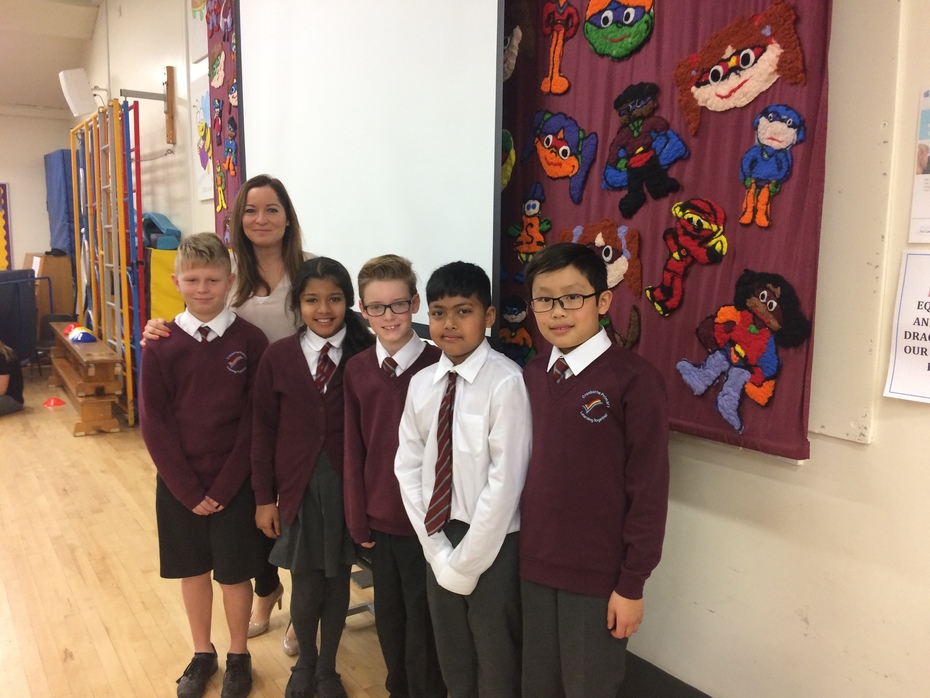 Finally, the mathematicians in year 2 have been working hard on partitioning their numbers, and Kaiden, Harvey, Emily and Joshua showed us some of their amazing work.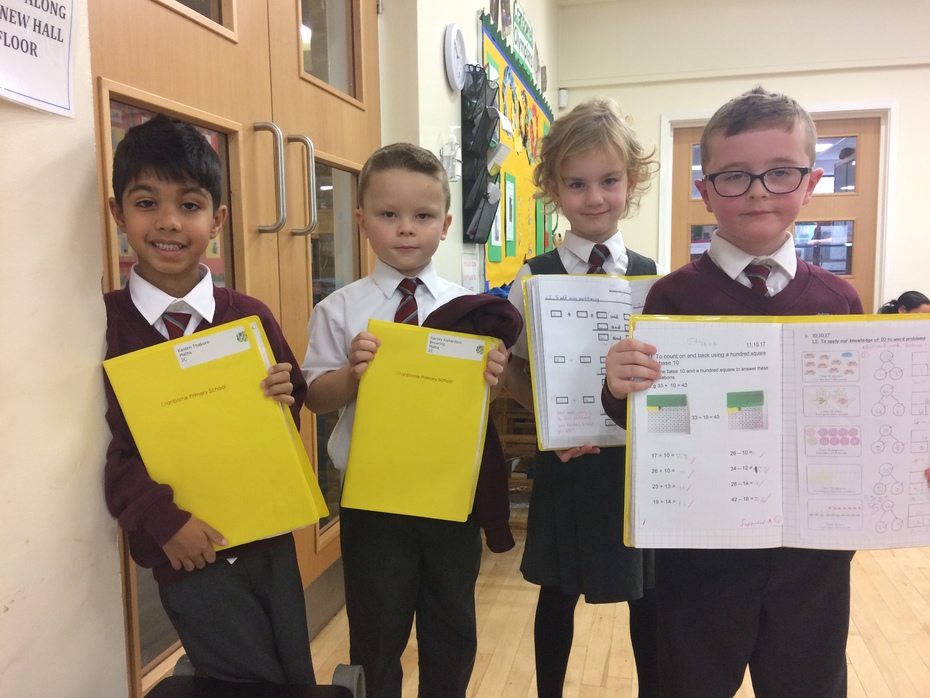 Enjoy the weekend everyone!
Celebration Assembly 20th July 2017
There was a combination of celebration and sadness today! We celebrated the achievements of some of our fabulous children but said good bye to some of our wonderful staff.
Well done to Tilly in year 1 for being awarded two swimming certificates and a gymnastics badge and congratulations to Imethma in year 3 for the super comments she received in her piano prep exam. Tom, Charlie and Archie in year 4 celebrated their trophies awarded for football and Harrison, Luke and Hau Hau in year 5 and Serene, Martin and Solomia were very proud of their swimming achievements. Well done to those achieving their certificates of excellence today too.
We said farewell and good luck to Miss Edwards, Mr S, Miss Hodgetts and Mrs Heatley. Thank you for all you have done for the school. We will really miss you! This is also the last time Miss Georgiou will be with us... she will be returning as Mrs Johnson! Good luck on your special day!
Have a wonderful summer everyone. Stay safe and enjoy time with your families! You all deserve a good rest!
Take care
Mrs Keilty xx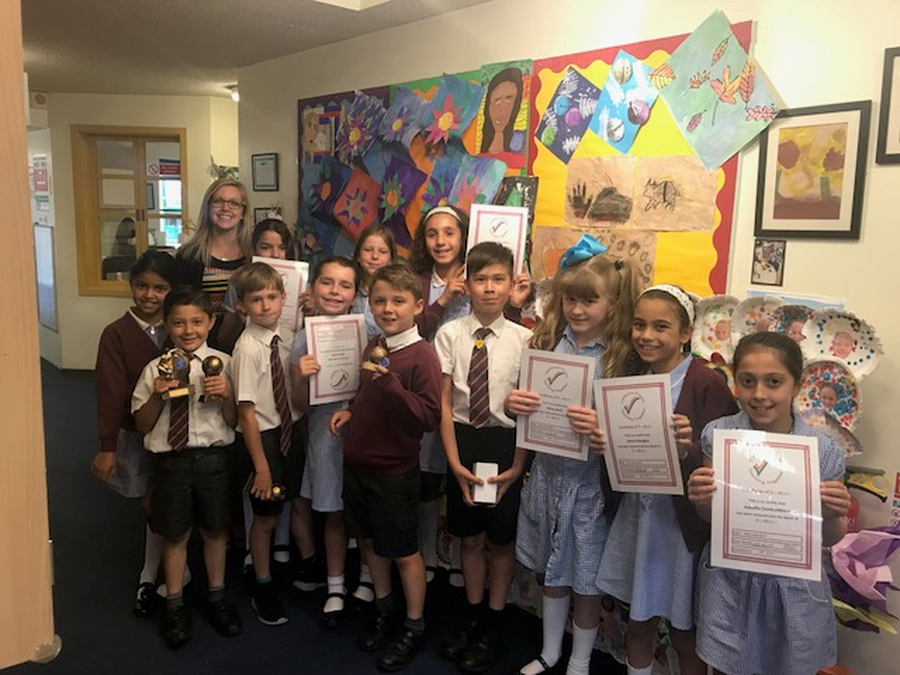 Celebration Assembly 6th July 2017
We had a wonderful time today, celebrating lots of achievements across the school. We listened to some amazing writing from Izzy, Amelia, Grace, Ruby, Michael and Solomia - their use of language and vivid description was really powerful. Well done!
Congratulations to a group of year 6 children who passed level 1 or level 2 in their bike ability sessions. They were awarded a badge and certificate. Remember to use your skills to stay safe.
We had lots of certificates of excellence today - keep up the hard work guys and keep winning those house points!
Year 5 had a very special surprise today... they were all awarded their Blue Peter badges due to their excellent art work. I am sure you will enjoy using these at many attractions across the country - you will be treated like VIPs!
Finally, the lovely Lily in year 1 performed at the end by singing 'Let it go' in front of the whole school. Beautiful singing Lily! Thank you.
Enjoy the sunshine everyone!
Mrs Claire Keilty
Deputy Headteacher
Parenting Support
Exam stress - many of you may have older children going through exams this summer term. Without effective coping strategies, stresses about exams can affect young people's ability to sleep, trigger anxiety, depression and tearfulness and even eating disorders. Information and resources to support teachers, pupils and parents can be found here:
Support for families is crucial for achieving the best outcomes for children and young people in Hertfordshire. Parents and carers are not the only influence on a child's life chances, but effective parenting is one of the strongest protective factors for any child. To view the Hertfordshire directory for parenting provision, please click on the following link: www.hertfordshire.gov.uk/parentingsupport
If you would like any friendly advice or tips with supporting and managing your children at home, come and have a coffee and chat with me. A problem shared is a problem halved! : )
Mrs Keilty
Health for Kids
Health for Kids is a new website which provides a wealth of information for children between the ages of 4 and 11.
There are activities for parents and carers to enjoy with children, advice to support their development and much more.
To view the website visit www.healthforkids.co.uk
Celebration Assembly 31st March
What a wonderful way to finish the Spring term. So many great achievements.
Well done to Year 5 who all passed their cycling proficiency tests and received badges.
Binuk in Year 4 won a gold medal in a Tae Kwon do national competition. Maya in Year 2 gained her 5m swimming badge.
Charlie, Louie, James, Hau Hau and Hanson from the Potters Bar Scout group took part in a swimming competition and won a trophy!
Avin Manshadi won Best Supporting Actress at the National Film Awards - very well done!
The winners of our Easter Bonnet competition are Teddy, Brooke, Amy, Oskar, Adrian, Arion, Jodie, Kaeya and Bethan.
We had some great writing from Kyle and Krishee and I gave out many certificates of excellence so a big congratulations to you all.
Have a wonderful Easter break. See you all on Tuesday 18th April.
Mrs Keilty
Deputy Headteacher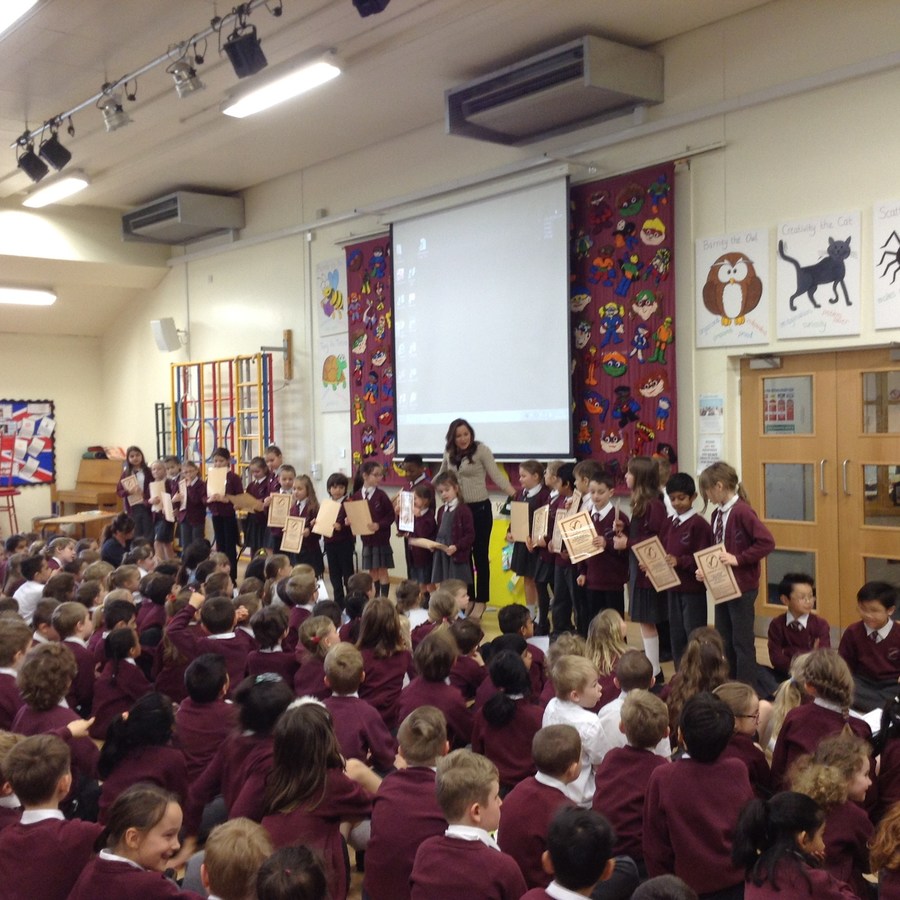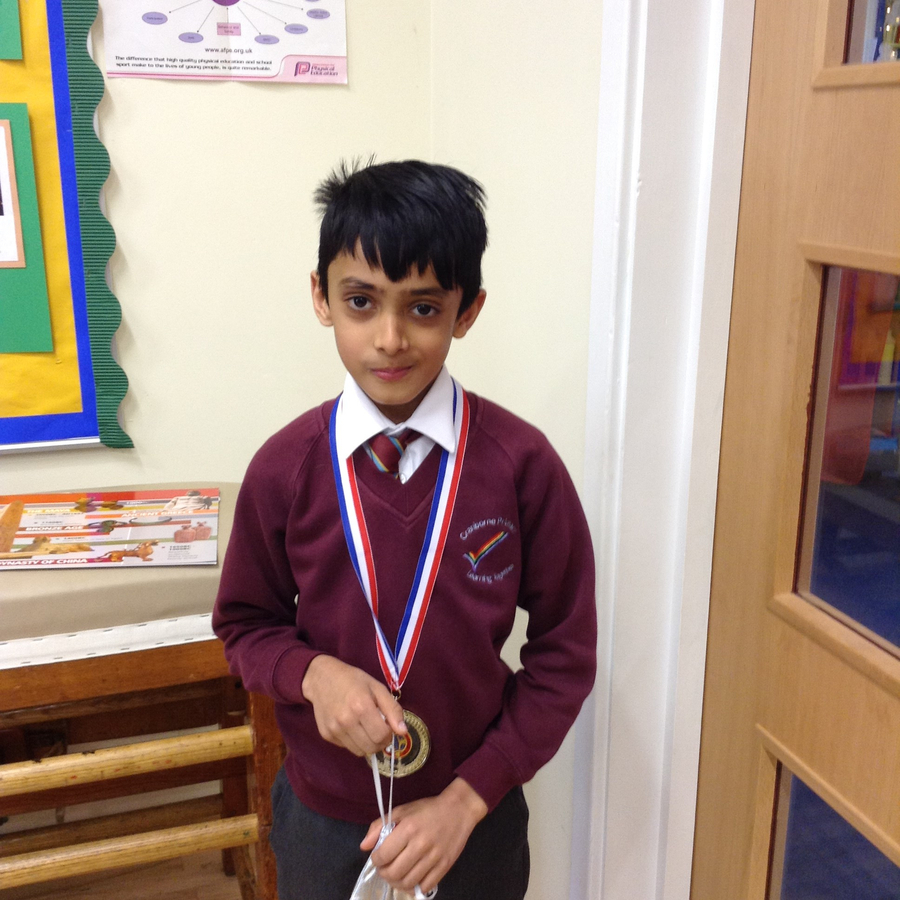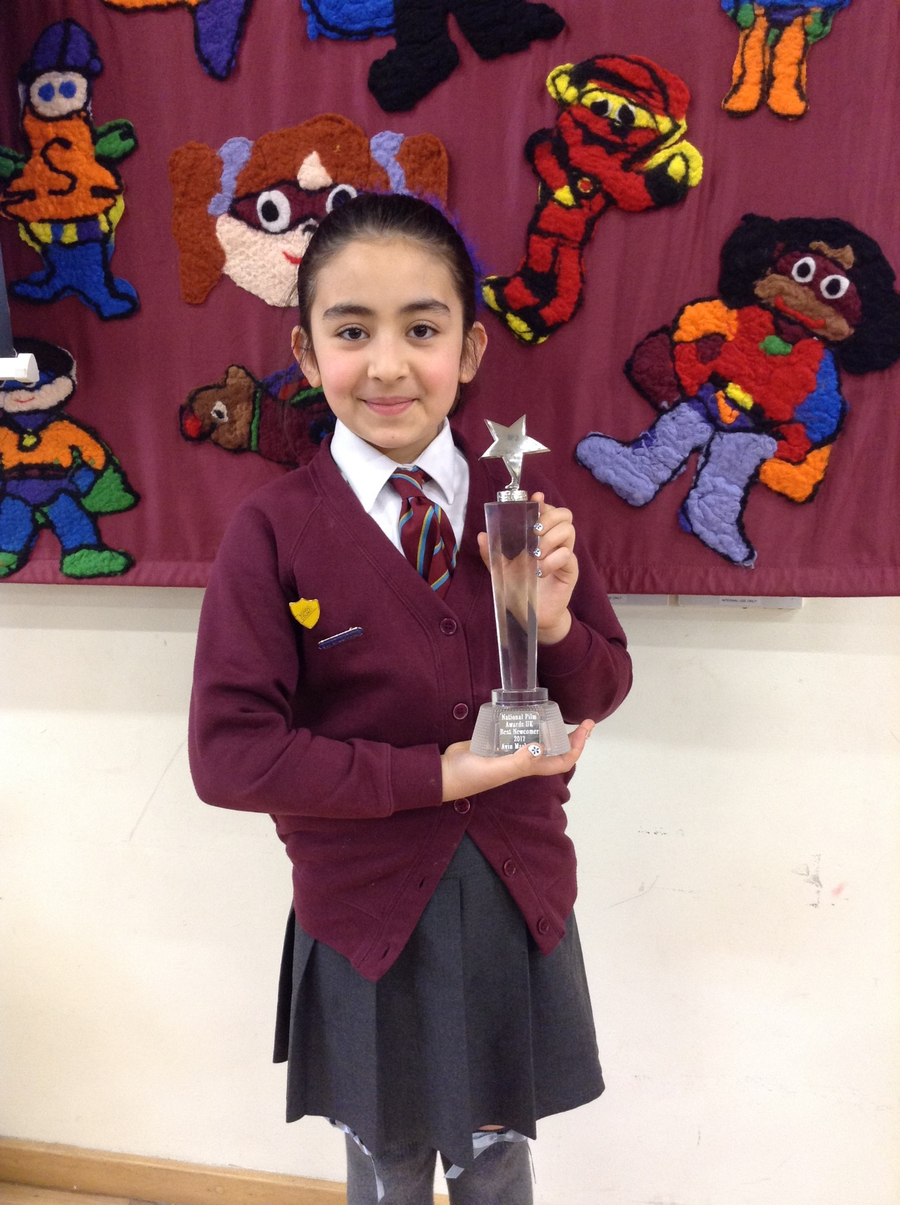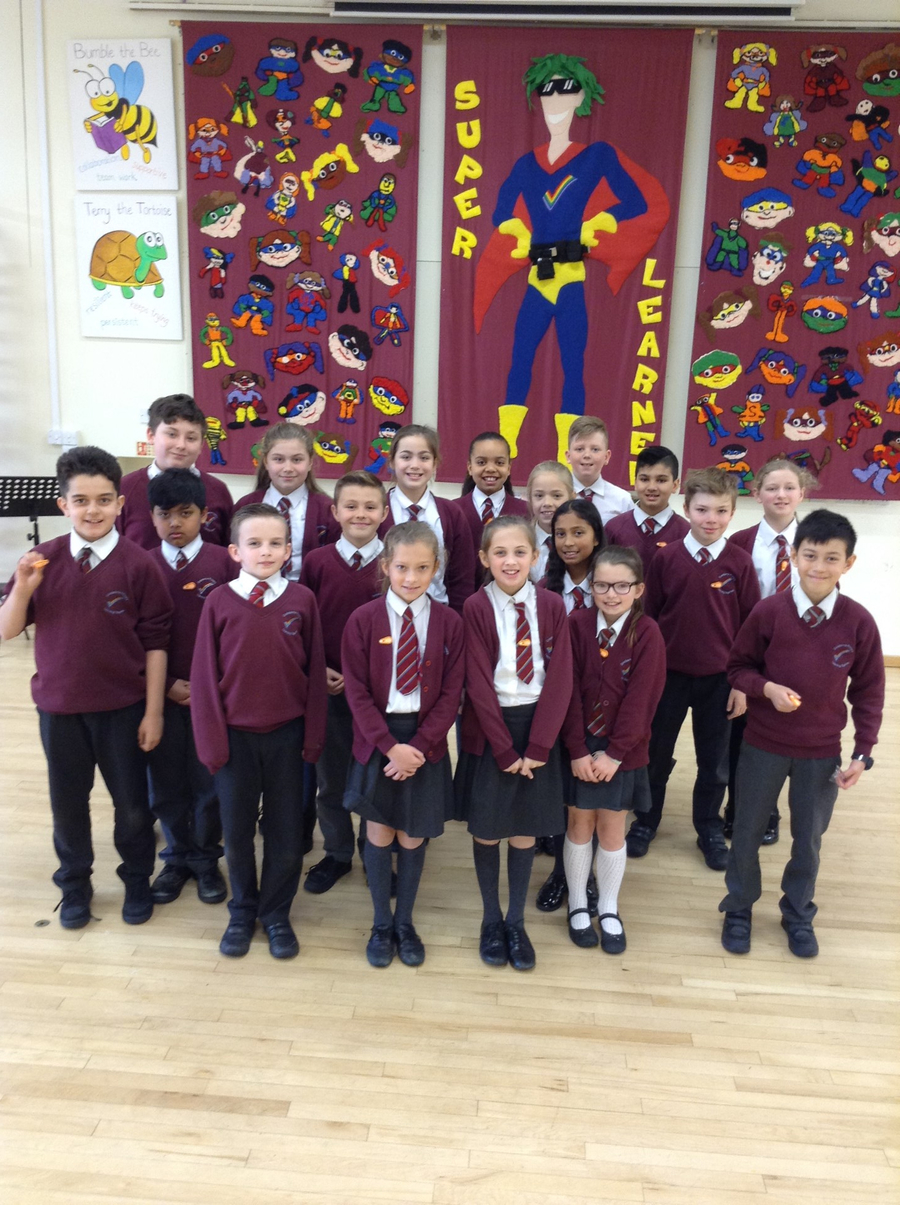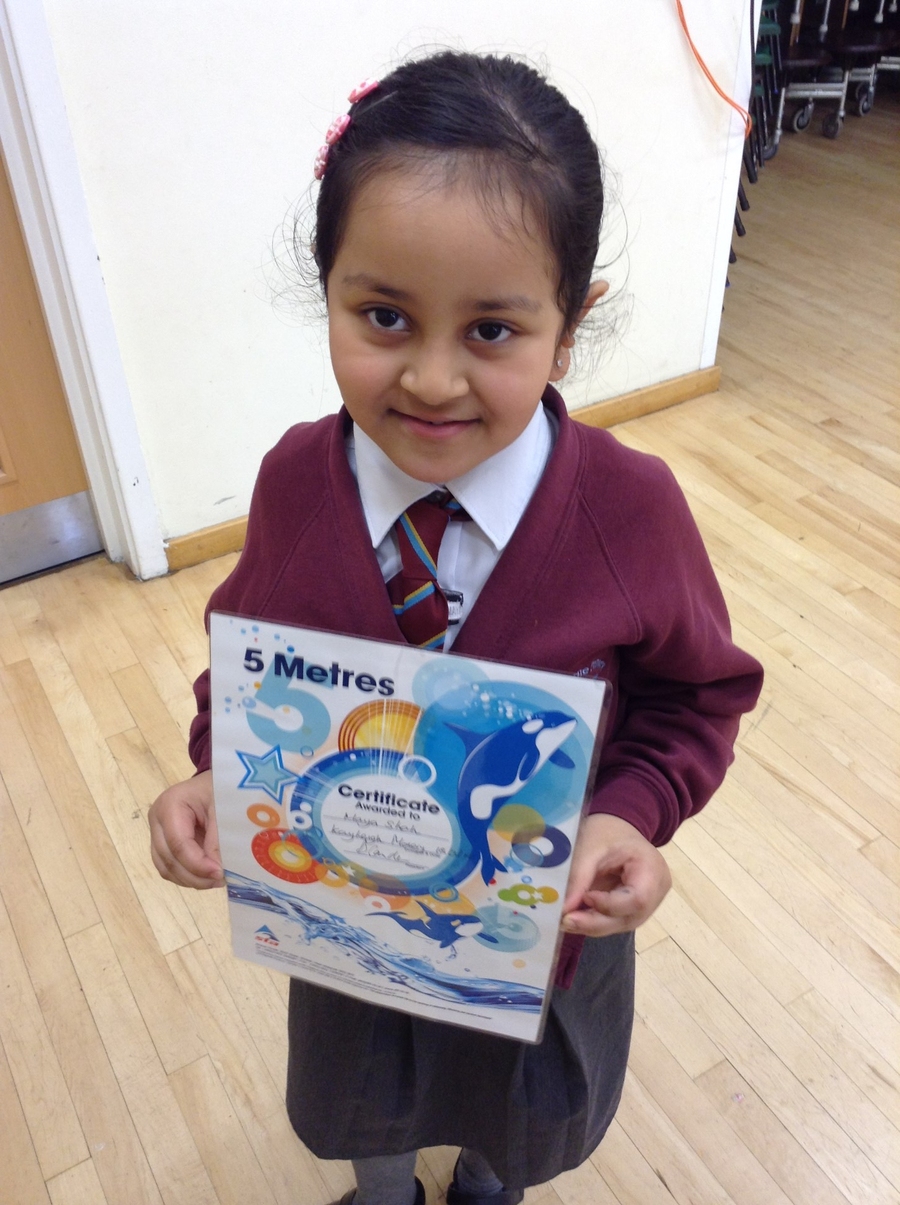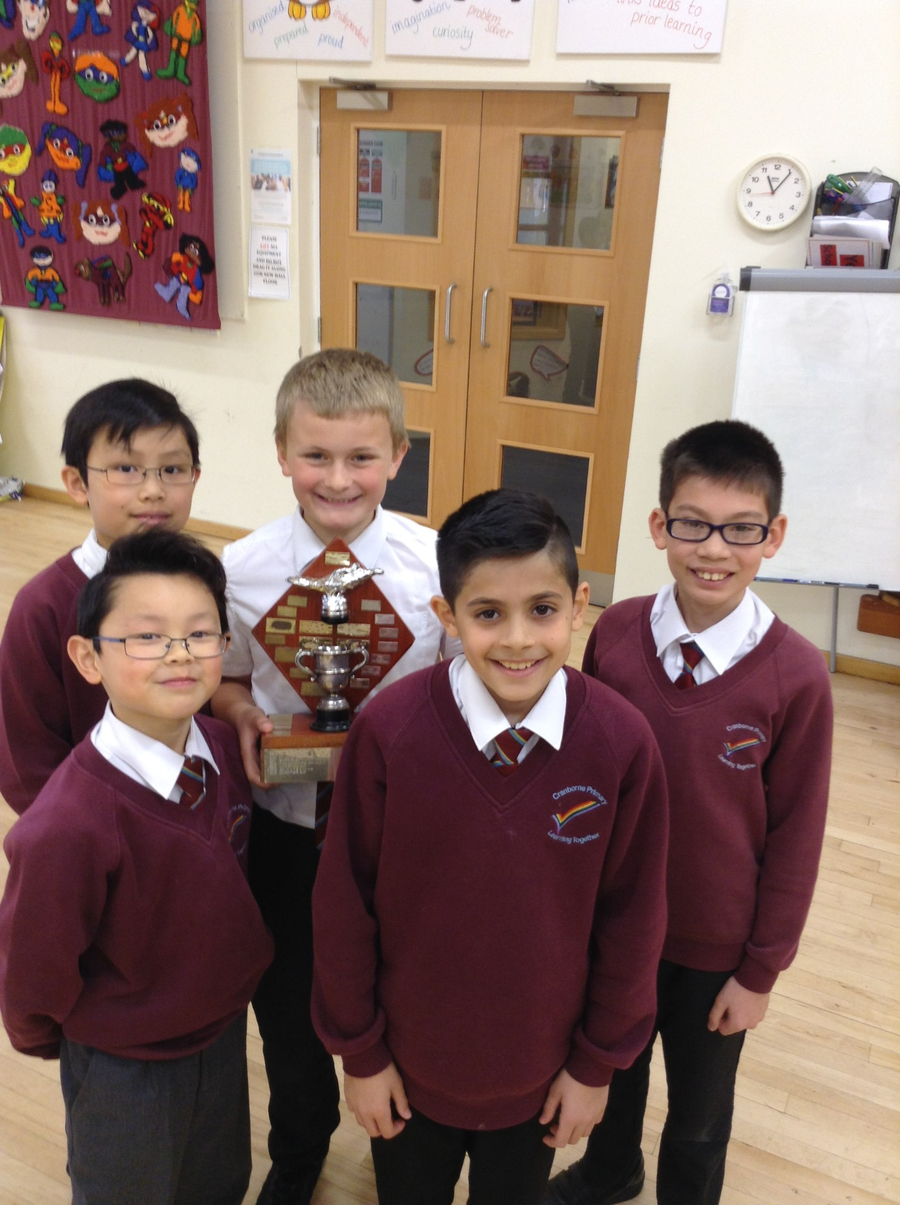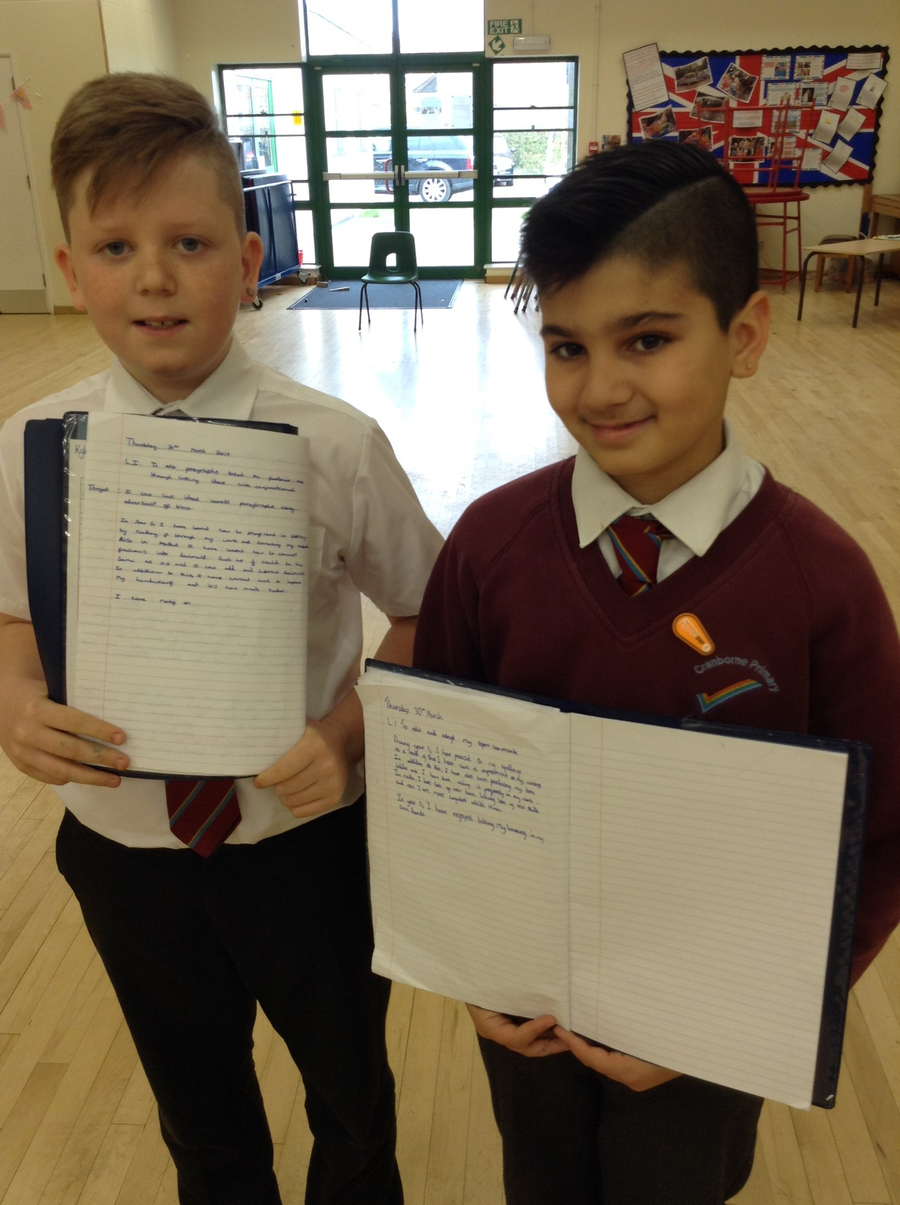 Celebration Assembly 16th March
Today was a busy day for celebrations! We had over 20 children to congratulate for various wonderful achievements!
Imogen, Paige, Emily, Imethma, Megan and Harvey all celebrated swimming achievements and Serene and Martin made the Peanut team to compete against other areas! Solomia told us about a forthcoming gymnastics competition - good luck girls!
Isabella and Gabriella passed their violin grade 1 exams with merit! Well done guys!
We had some fabulous handwriting and presentation in 1S... Taylor, Celyn, Talia and Ela-Su's writing was beautifully formed, on the lines and a pleasure to read.
Rona and Aaliyah were awarded their certificates of excellence.
10 children were chosen from year 6 to represent the school in a very important debating day at the Hertsmere Borough council Offices. Thank you and well done to Bethan, Jess, Havin, Isabella, Mable, Drew, Tom, Ilia, Sam and Sabaa for their excellent contributions.
Have a great weekend!
Mrs Keilty
Deputy Headteacher
Celebration Assembly 10th March
We had a small audience today as one year 4 class were off at swimming and year 1 were busy working!
Nevertheless, we celebrated some fantastic children's achievements. Ashley showed off his trampolining grade 4 badge and Alexis was so proud of her gymnastics certificate.
I was really impressed to see some of the fab projects from year 2 on a country of their choice. Summer chose the USA and presented a massive roll of paper which was covered in photos, captions, pictures and facts! It took two children to hold it up! Rosa produced a beautiful book all about Spain, explaining the currency, language and traditions. So much effort went into all the projects so thank you mums and dads for supporting your children with these.
Finally, a big well done to year 6 for continuing their maths booster sessions with such enthusiasm and to school council reps for their confidence in feeding back to their classes.
What a wonderful week! Well done Cranborne!
Mrs Keilty
Deputy Headteacher
Celebration Assembly 24th February
Another wonderful day of celebrations! Miss Georgiou took the assembly today and was very impressed with how well you have all done.
Firstly, a massive well done to all those in year 4 who took part in the Speed Stacking tournament at Dame Alice Owens school in January. I am pleased to say that we came first!
Congratulations to Alex in Year 2 who got a housepoint certificate.
Charlie, Louis, Hau Hau, Hanson and James all participated in a building competition at Cubs. They built a kitchen out of cereal boxes, came first and won a trophy. Well done boys!
Andreas in Year 2 built a moving tank out of cardboard. Excellent building.
Ela-Su in Year 1 got a swimming certificate. Keep up the good work!
Celebration Assembly 19th January
I was so impressed today with how much learning has taken place over the last week! Kamil, Ola, Kiera and Luke from year 5 shared some fabulous character descriptions. They had used metaphors, adverbials and adjectival phrases to create vivid images in the readers mind. Very clever!
Gracie and Mete, again from year 5, showcased their maths learning - drawing and measuring angles with accuracy. The whole school were taught how to remember an acute angle ( small angle less than 90 degrees) by saying (in a gentle voice) 'Ah... it's a 'cute' angle!'
Zoe and Mathilde wowed us with a dance in front of the whole school - how brave!
We had lots of swimming and Mathletics certificates too - keep up the hard work! There were lots of comments from teachers celebrating whole classes - particularly around working as a team, supporting each other and positive attitudes towards learning. Well done everyone!
Have a lovely weekend
Mrs Keilty
Deputy Headteacher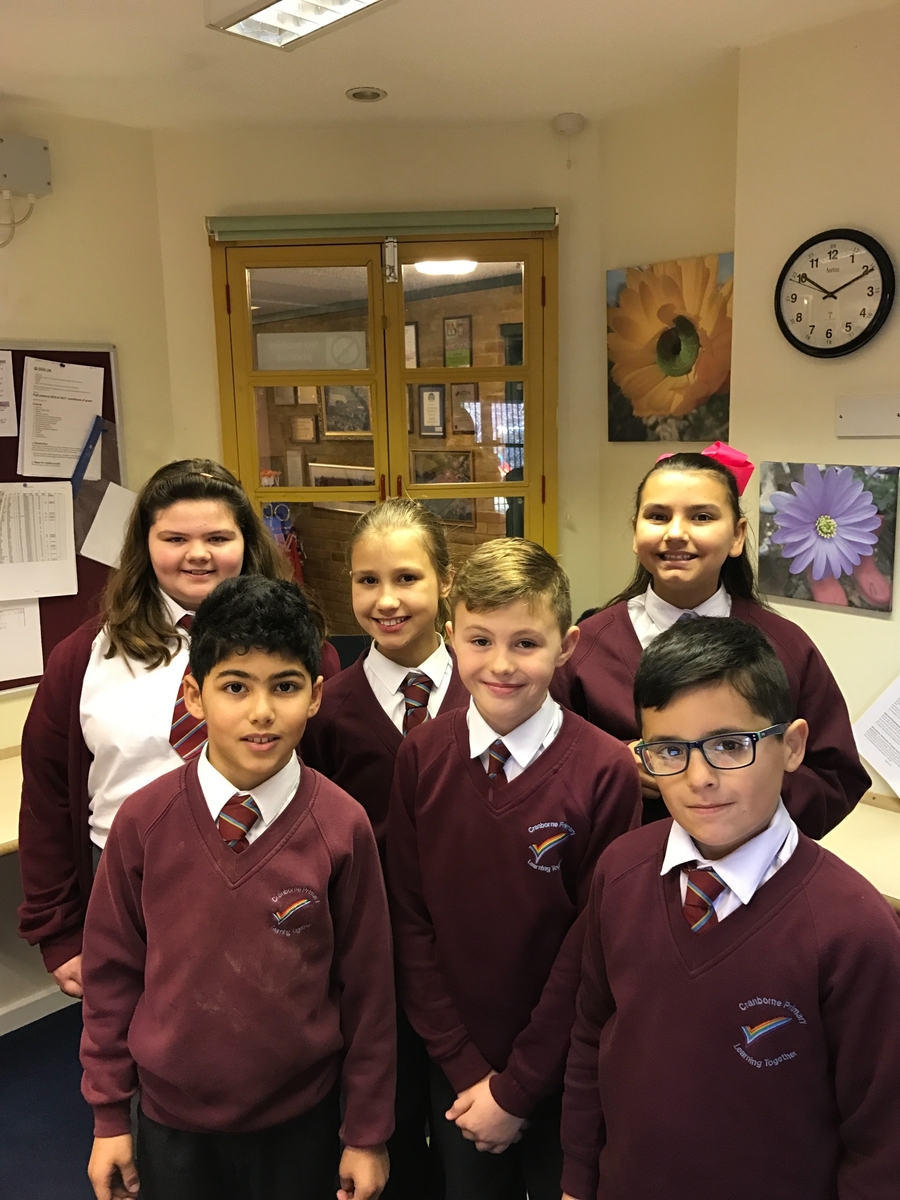 Celebration Assembly 12th January
Welcome back to an exciting Spring term! Today we celebrated some fantastic maths learning in year 1... they showed off their number bonds to 10 and how quickly they can recall them! Well done Mrs Sinclair and Mrs Adams!
It was great to hear that year 5 have been supporting each other in their learning and that year 6 are really rising to the challenge of revision and SATs practice!
Tilly, Lily and Amara were proud of their swimming achievements, Maya showed off her gymnastics certificate and Josh celebrated his mathletics bronze award. Harley has amazed us with his positive attitude towards his learning this term - keep up the good work!
It's lovely hearing about all your achievements, both in and out of school so please come and let me know!
Mrs Keilty
Deputy Headteacher
Celebration Assembly 16th September
Welcome back to another fantastic year of celebrations! It seems you have all been very busy over the summer and during the first couple of weeks back to school! Really pleased to see our Reception children settling so well and getting along so wonderfully.
Teachers are particularly impressed by the children's attitude to learning so assembly this week was more of a whole school celebration! Every child has been a credit to their new teachers, showing high levels of resilience, persistence, collaboration and respect.
We've been having a real blast on presentation and handwriting so please encourage your children to take their time and record their learning beautifully. We are looking for quality not quantity!
Have a great week.
Mrs Keilty x
Celebration Assembly July 15th
Wow - so many celebrations today! swimming, lego, music, handwriting, dancing, football, Blue Peter Badges! What a talented bunch we have at Cranborne!
Mrs Keilty x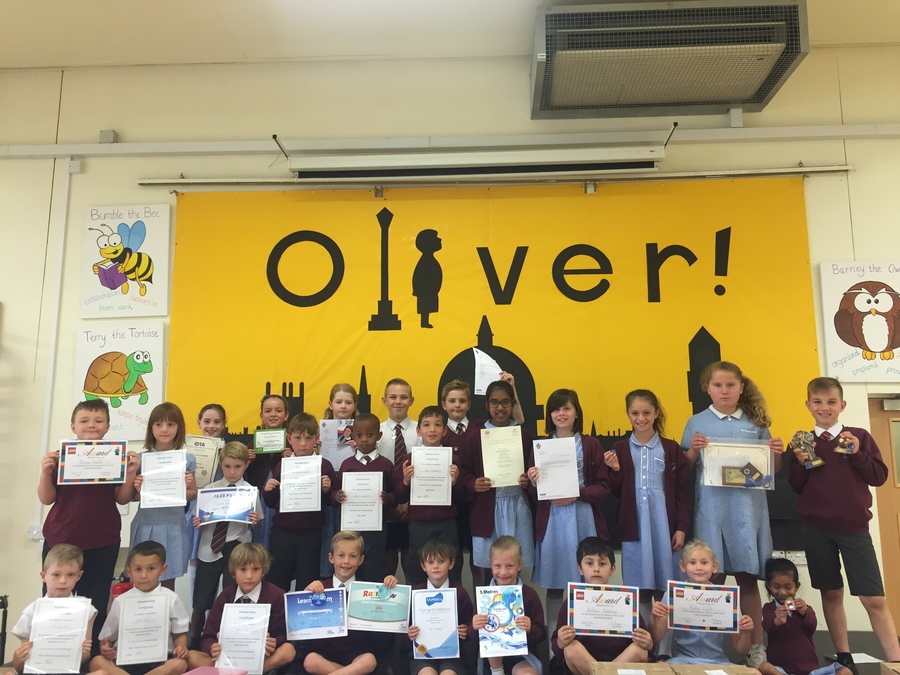 Guitar Assembly 24th June 2016
Wow! What an assembly! We were treated to a wonderful performance by our Cranborne Guitarists today who played a fantastic range of fast and slow songs, including the Titanic theme tune! The audience were so impressed, clapping and dancing along! They thought they were at a concert!
Well done to the fabulous Alex, Jack, Ellie, George, Shayan, Benjamin and Christian! You were amazing!Mrs Keilty x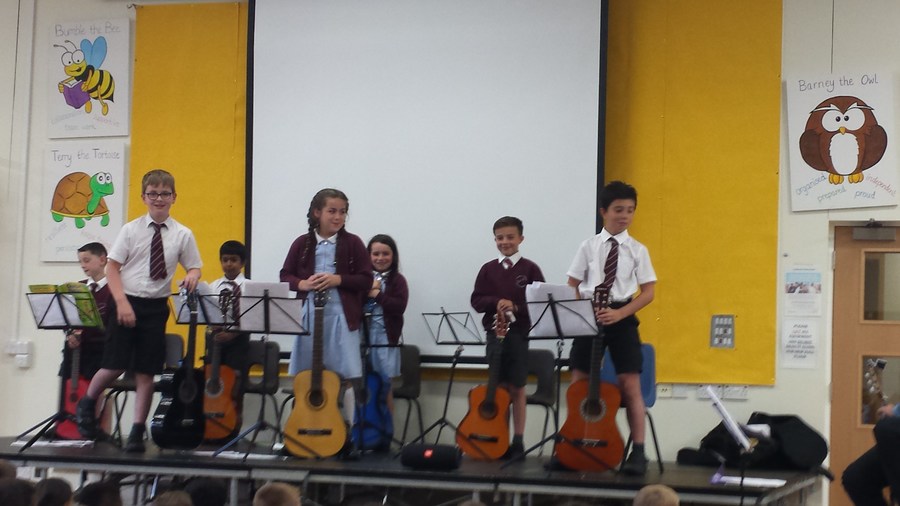 Celebration Assembly
Friday 27th May
We have had another day of celebrations today and the children were super excited that half term is right here!
Firstly, a massive well done to our year 5 mathematicians who represented Cranborne in the School's Maths Challenge Competition. They worked fabulously as a team and scored really highly. Thank you to Davran, Alfie, Jessica and Zoe!
It was lovely to see how well our ballerinas had done in their recent exams! Some even achieving merits! Well done to Chloe, Aimee, Solomia, Ruby and Lily.
Miss Powell presented the walk to school shoe design winners! There were some amazing entries but well done to the following children for their winning shoes: Kaiden, Anand, Maelys, Rosa, Alexander, Matthew, Lacey, Jake, Bethan, Eranda, Tahyat, Avin and Mollie -Rose. I'd like to give a special mention to Brooke M who actually designed and then made a special shoe! It was fantastic!
Have a wonderful half term everybody - relax with your families and get refreshed for the final summer term ahead!
Mrs Keilty x
Article by year 5 students
I asked year 5 to write a report for the Potters Bar Community News magazine. They did a fantastic job and will now have their article read by thousands of local people! Well done Katie, Jessica, Davran and Bethan!
Mrs Keilty
What's new at Cranborne?
It has been a very busy year at Cranborne; but what's new? So far this year, we have generated a school council where the pupils have had the choice to write and perform a persuasive speech. After that, the other children can pick, based on their speech, which boy and girl should become councillors of the class. Since the beginning of the year, we have introduced superlearner sidekicks which include: Creativity the cat, who thinks outside the box; Scatter the spider, makes connections; Terry the tortoise, who is resilient; Barney the Owl who is organised and Bumble the bee, who uses teamwork. Two pupils from each class who have been showing all these qualities are invited to a special tea party with their parents.
Success at Cranborne
Our year at Cranborne has been full of success. Across all of the year groups we've excelled in our learning and had loads of fun. Over the past school year, our football teams have impressed no end. The year 3 and 4 A-team won the gold cup at the Furzefield tournament, closely followed by the B-team, in 3rd place. We are incredibly proud of them and hope that this is only the beginning of their success.
The talented singers in our choir have recently been to the Royal Albert Hall to sing in the Hertfordshire schools' gala 2016, 'Fable and Fantasy'. The children thoroughly enjoyed this amazing opportunity and loved performing in this famous venue. Last term, we were treated to a visit from Hertsmere's MP – Oliver Dowden. He told us about his role in parliament and the changes that he has made in our community so far.
Both year 5 classes have had the chance to work with a talented artist, Mrs Dibden. Their artwork was considered so good that they have been entered for Blue Peter badges! We hope to receive replies soon along with our badges.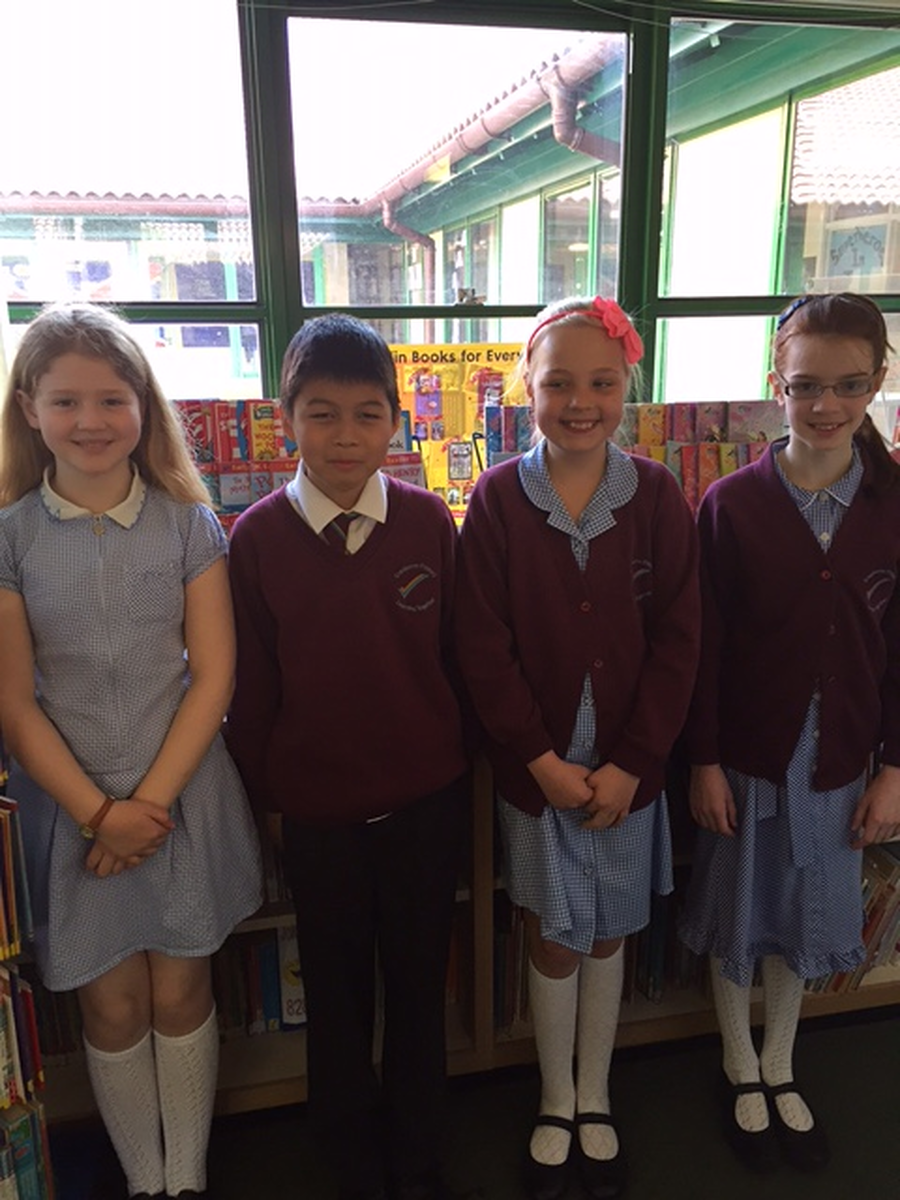 Celebration Assembly News!
Friday 6th May
A beautiful day of sunshine, coupled with a great day of celebrations!
The lovely Delfin from year 6 treated us to a cello performance. She was fantastic! She played the theme tune to Harry Potter which sounded magical... On that note, some of our year 5 girls, Erin, Grace and Emily were lucky enough to receive a letter from the one and only J.K Rowling... delivered of course by owl!

We also celebrated the fact we can now use our field... at last! Finally, good luck to year 6 next week as they take their SATs and then go off to the Isle of Wight on 16th May. You'll be brilliant!
Enjoy the sunshine with your families this weekend!
Mrs Keilty xx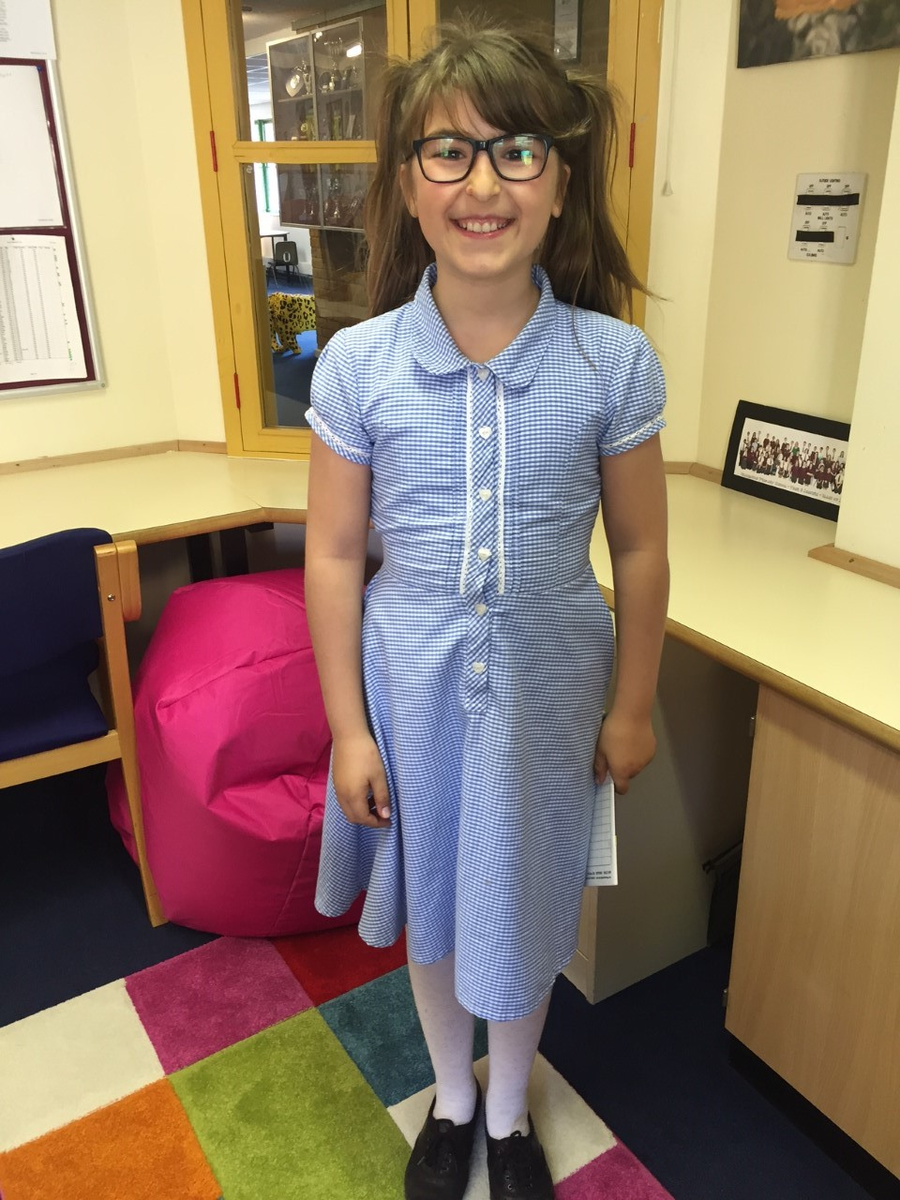 Celebration Assembly News!
Friday 29th April
Another wonderful day of celebrations! I always look forward to Friday!
Today we celebrated some children who raised over £50 for the British Heart Foundation. Thank you to Khyana, Alfie, Archie, Harrietta and Frankie! Bethan shared her St. George's Day writing with us, Harvey, Prinesh and Luke achieved mathletics certificates, Dina, Dinelly, Kaji and Synah did some fantastic writing and Grace and Zoe treated us to a poem with actions!
Keep up the hard work everyone! Well done!
Have a great long weekend! Mrs Keilty x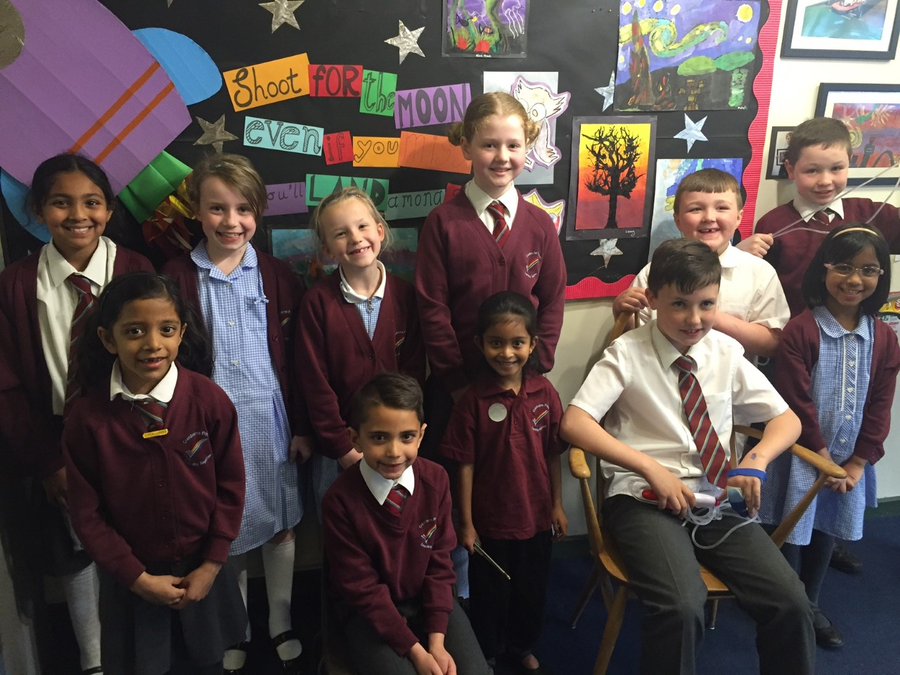 Celebration of Superlearners!
Dedicated learners were treated to an afternoon tea party to celebrate their achievements since the start of term. Two children were chosen per class who had demonstrated consistently excellent attitudes to learning. These children had shown persistence in their learning, resilience in their approach, creativity in their thinking, organizational skills and a real commitment to helping others.
In turn, each child told the audience why they were a superlearner whilst their family proudly filmed their big moment. They were presented with a certificate and badge.
Each half term, all children will have the opportunity to achieve the Superlearner award.
Good luck Cranborne!
Mrs Keilty xx