Class Teachers: Miss Almond (RSA) , Miss Anna (RA)
Early Years Practitioners: Mrs Shah (RA), Miss Bransom (RSA)
Learning Support Assistant: Miss Mountford (RSA)
Dates for your diary 2019:
Friday 21st June - Non School Uniform Day (please bring in a chocolate donation for the summer fayre chocolate raffle stall.)
Friday 28th June - Sports Day. 9:00-9:30am.

Monday 8th July - Friends of Cranborne AGM 7:30 in the front hall. All welcome
Thursday 11th July - Transition morning for the new children to Cranborne. Children to spend time in their new Reception classroom.
Thursday 11th July - Exhibition evening from 5pm.
Sunday 14th July - Friends of Cranborne Summer Fayre.
Monday 15th July - Transition morning for the current Cranborne Nursery children. Children to spend time in their new Reception classroom.
Friday 19th July - Last day of term. School finishes at 1:15pm.

Please refer to the main webpage for the full school year calendar.
Reminders
PE - The children have PE every Friday morning. Please ensure that full PE kits are in school at all times.
Library - We visit the school library every Tuesday afternoon. Children are able to check out a maximum of 2 books. Please ensure that library books are returned so that your child may take out a different book regularly.
Homework will be given out on Friday and is expected to be handed in the following Wednesday unless otherwise stated.
Clothing and accessories - please make sure that all of your child's belongings are clearly labelled, so that they can quickly be identified if misplaced.
Please encourage your child to get dressed and put on their shoes and coats independently. We will also support this at school.

Reading - A big thank you for reading every day with your child at home. It really does make a difference to their confidence and progress. Please ensure that you write in their reading record each time you read at home and that reading records and books are sent in to school each day. Reading books are changed twice a week and your child will read with an adult at least once a week. Please feel free to use the reading record to write us a note if needed, we know that many of you already find this useful.
Paradise Wildlife Park - Friday 7th June 2019

Even the rain couldn't spoil our trip to Paradise Wildlife Park! All the children (and grown ups) really enjoyed seeing all the different animals up close, especially the lions in their new enclosure. We managed to see as many animals as we could in between the rainfall and we also managed to fit in an interesting talk about camouflage animals. Some of the children were chosen to pretend to be those camouflage animals and their predators and they were very scary!! And we were so excited to walk around the World of Dinosaurs attraction, especially as we learnt so much about them at the beginning of the Summer Term. Thank you to our parent helpers who braved the rain to spend a day at the zoo with us all!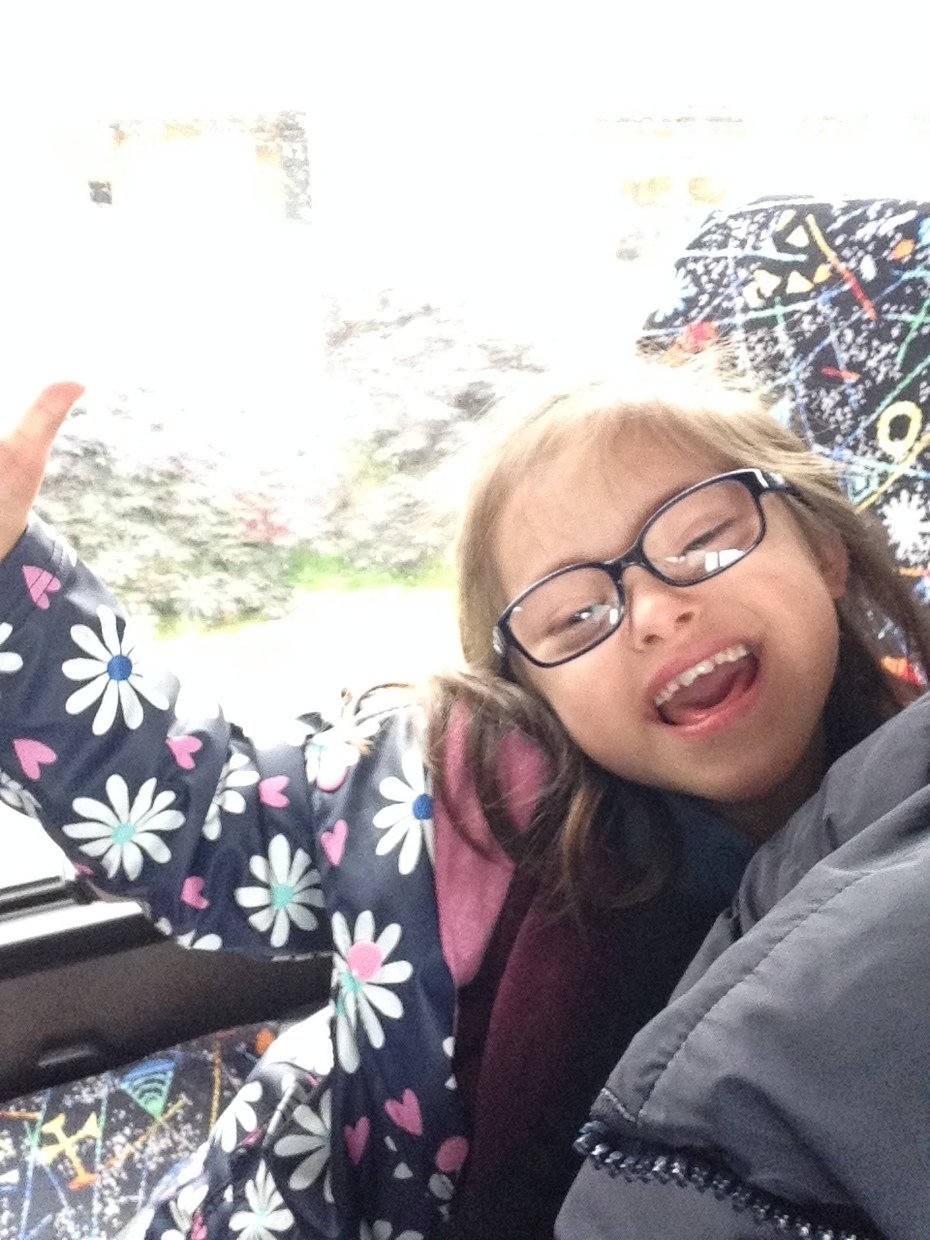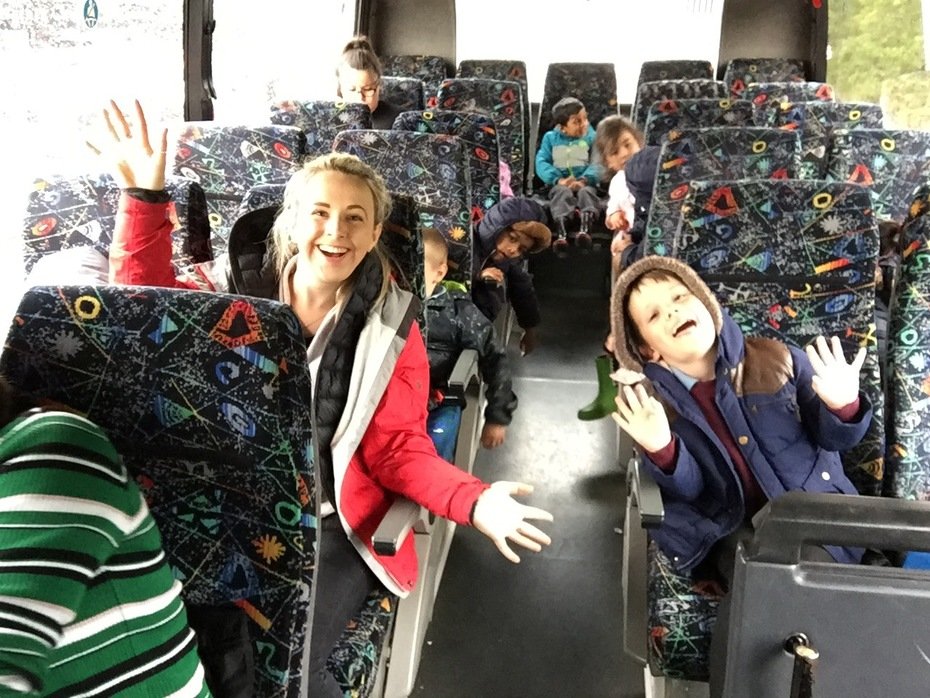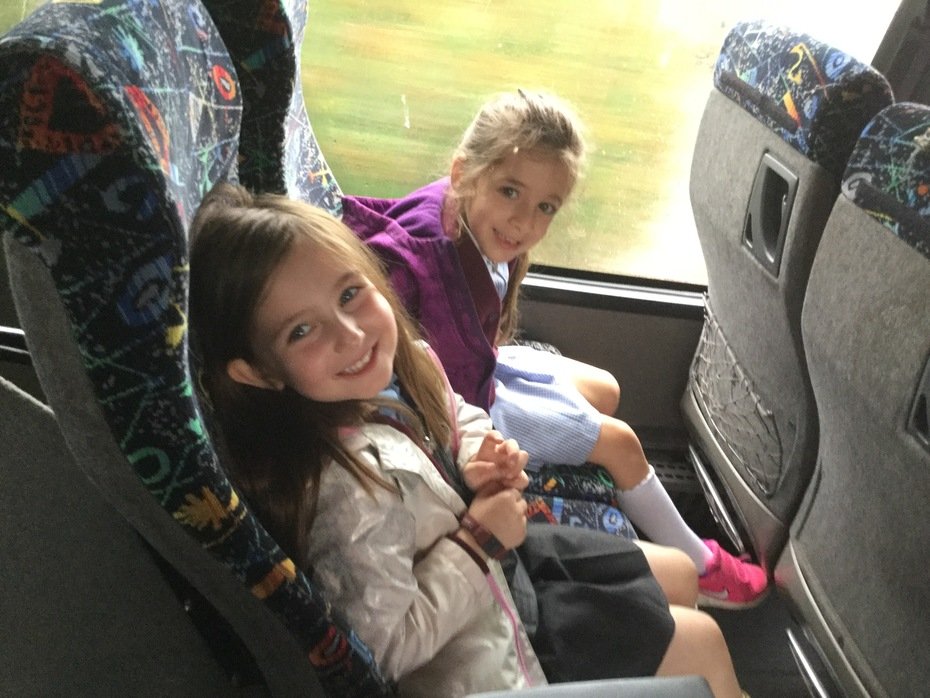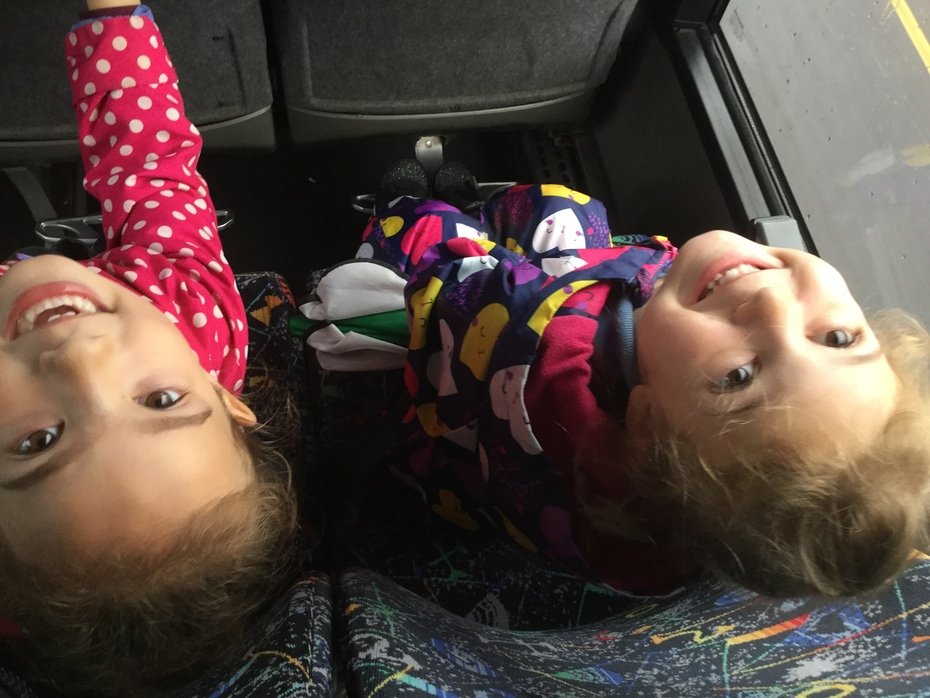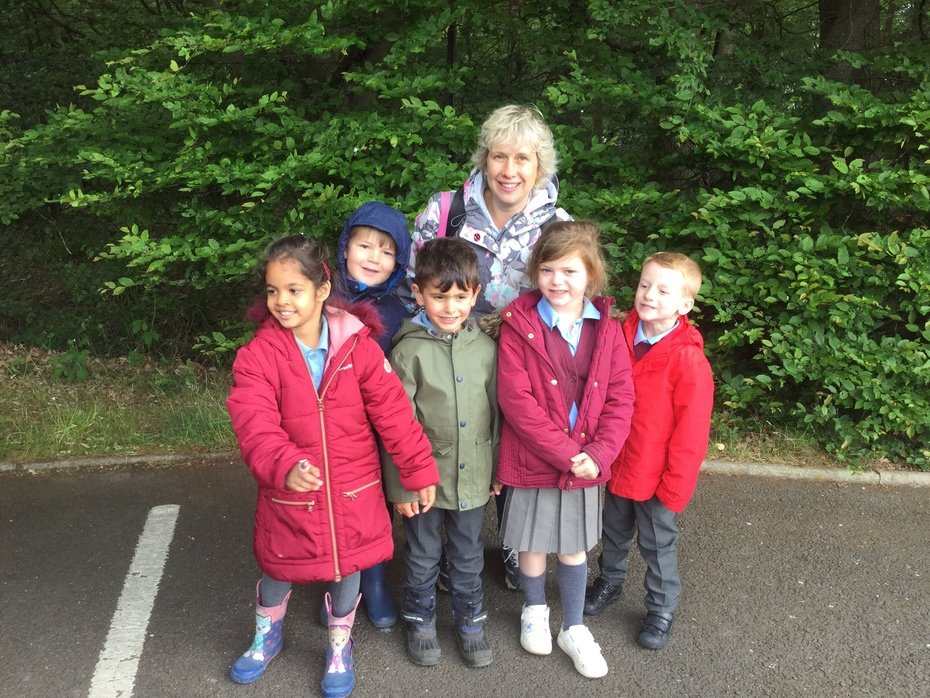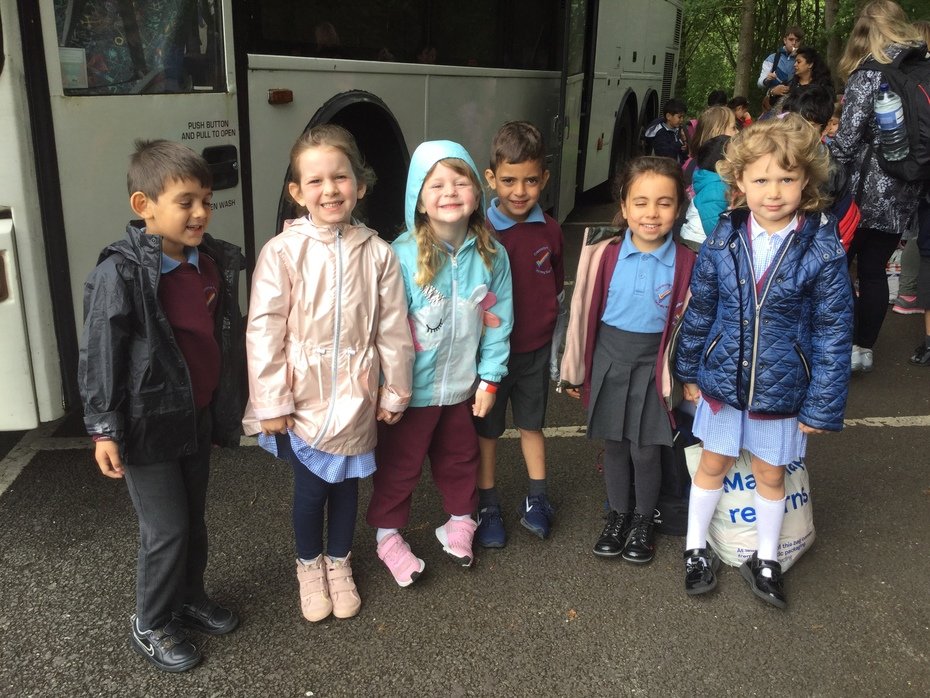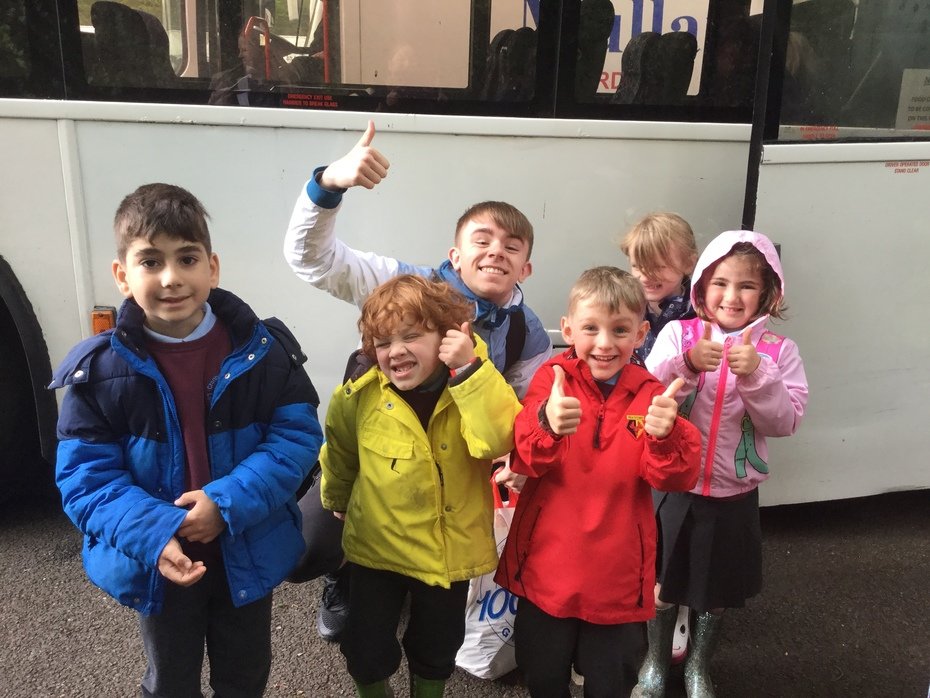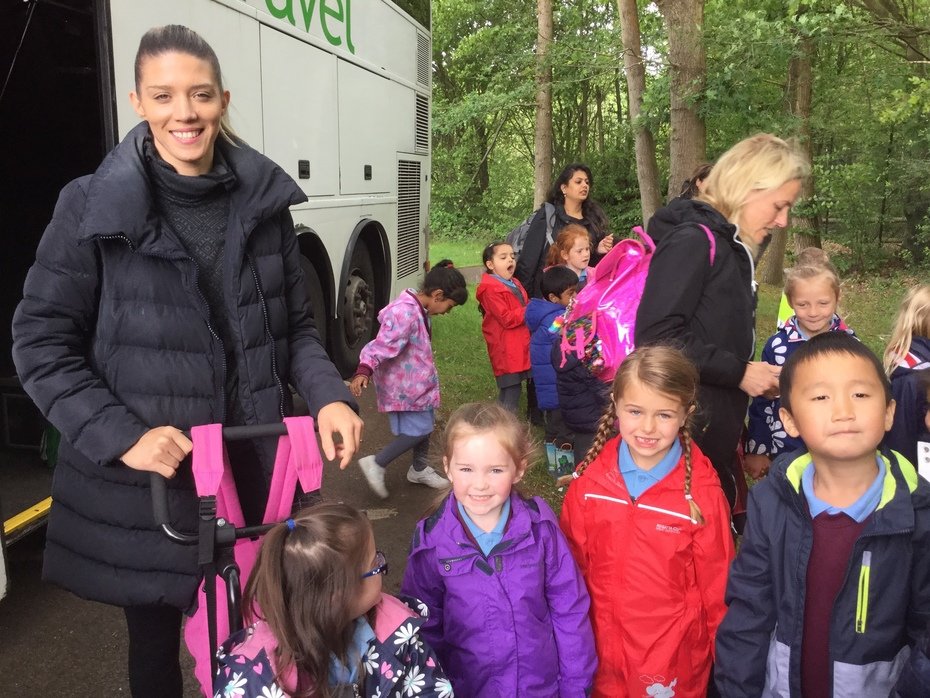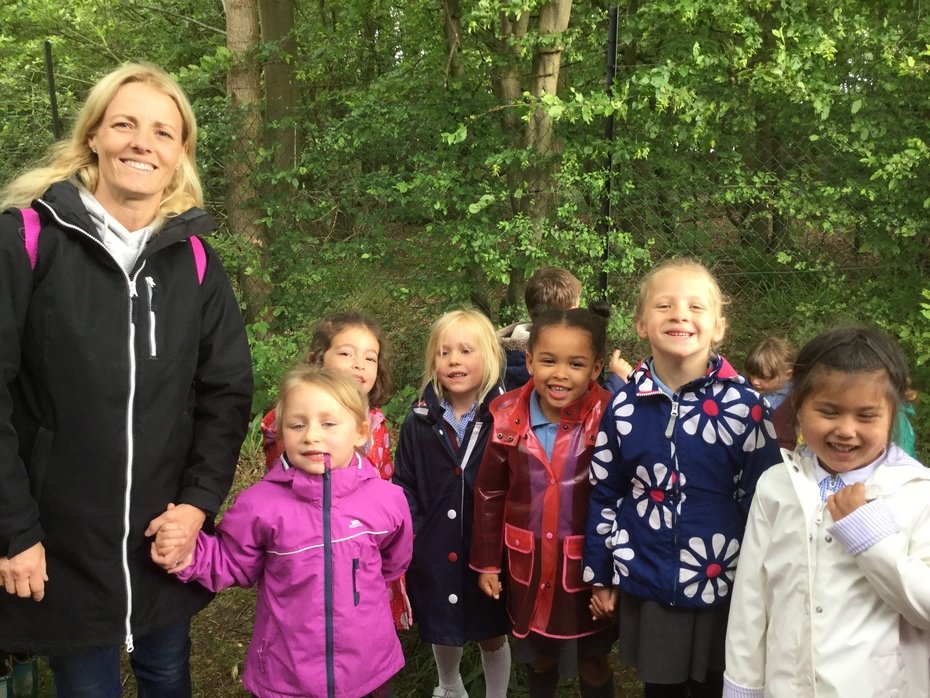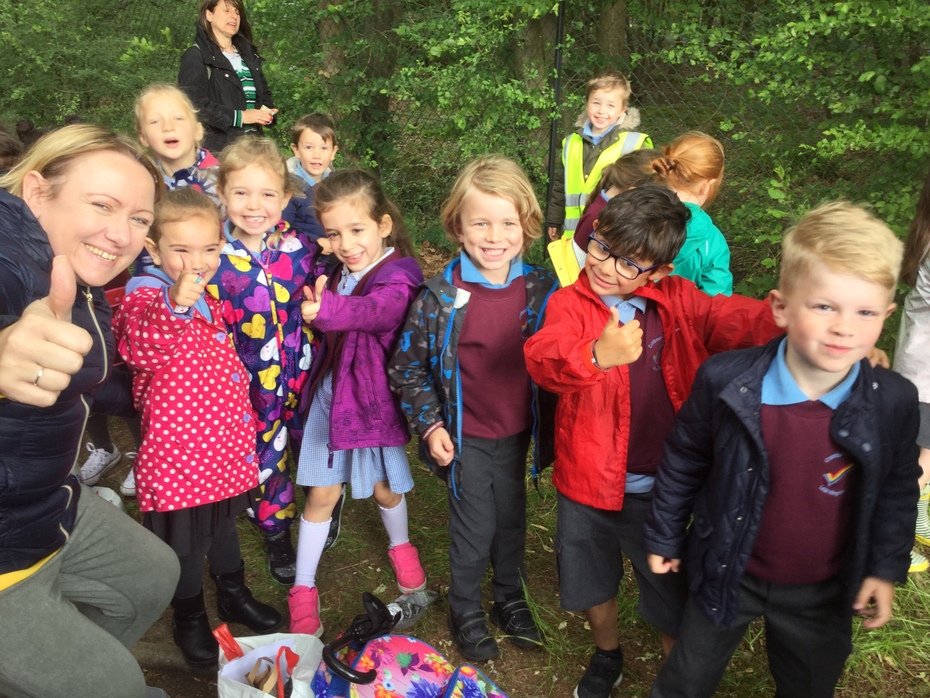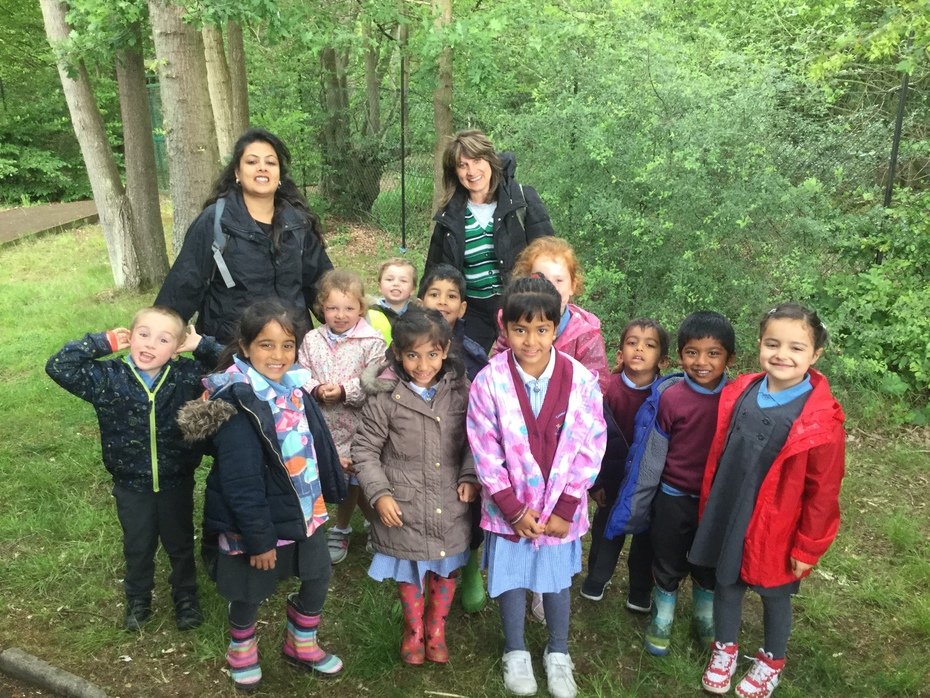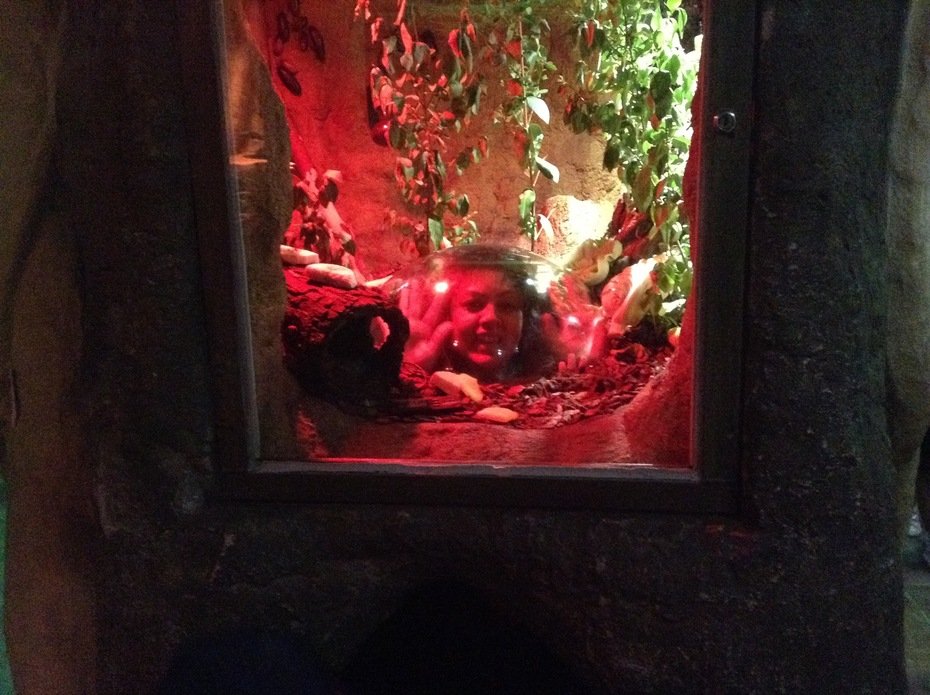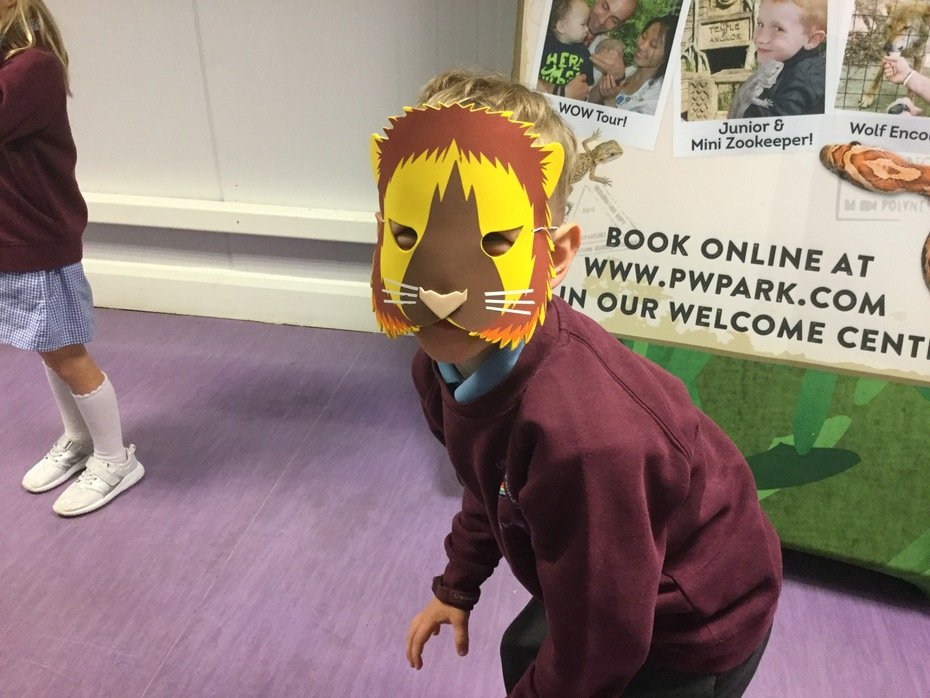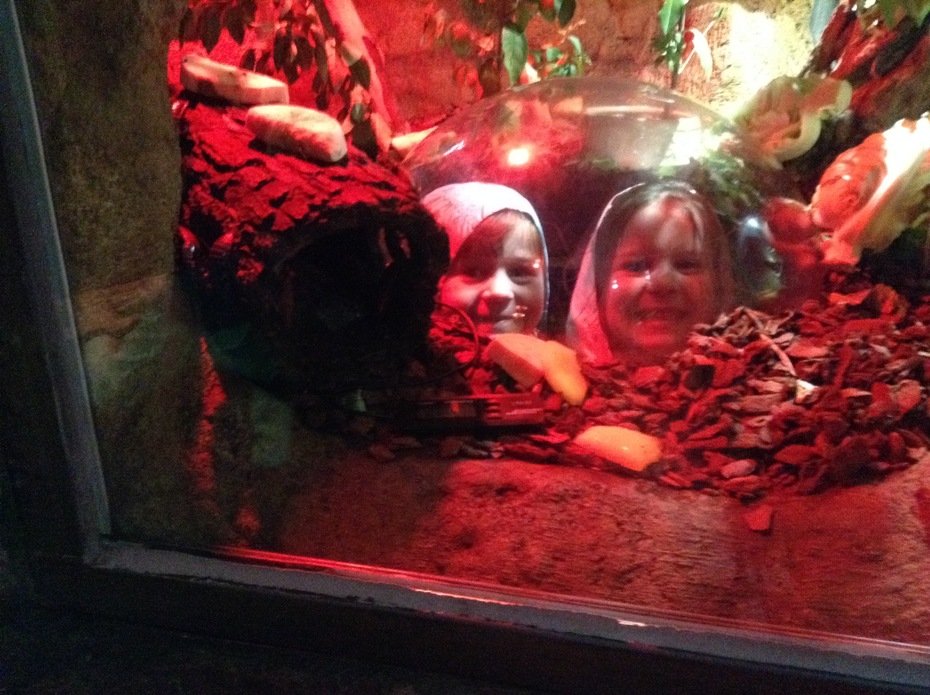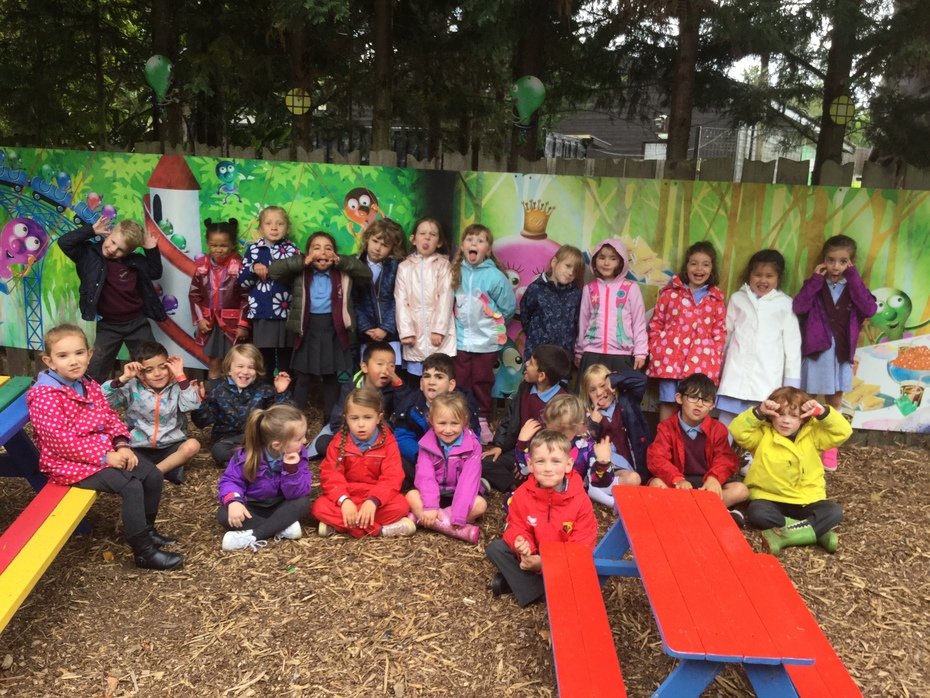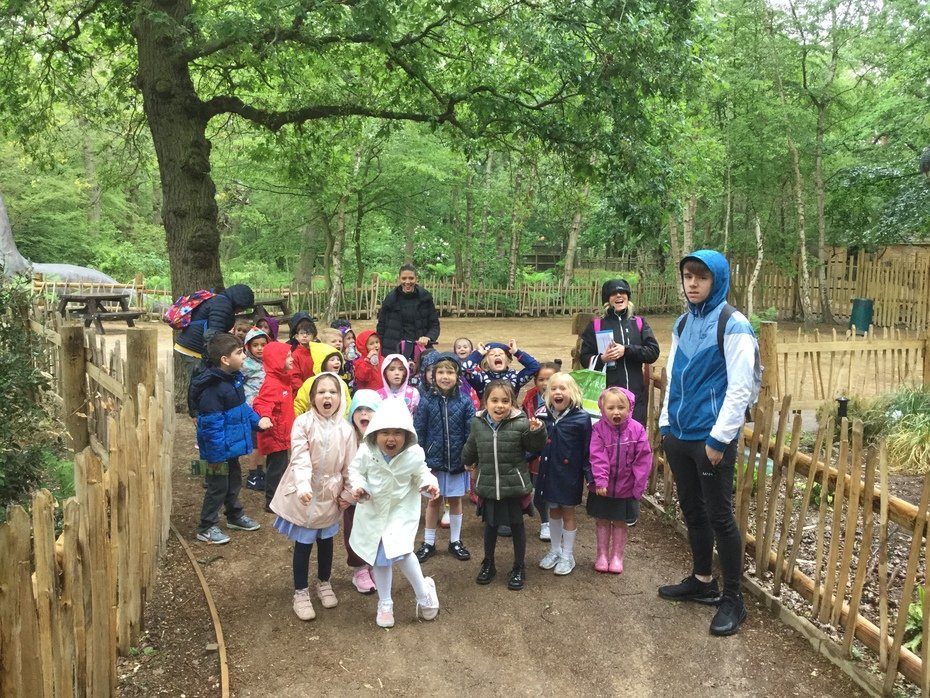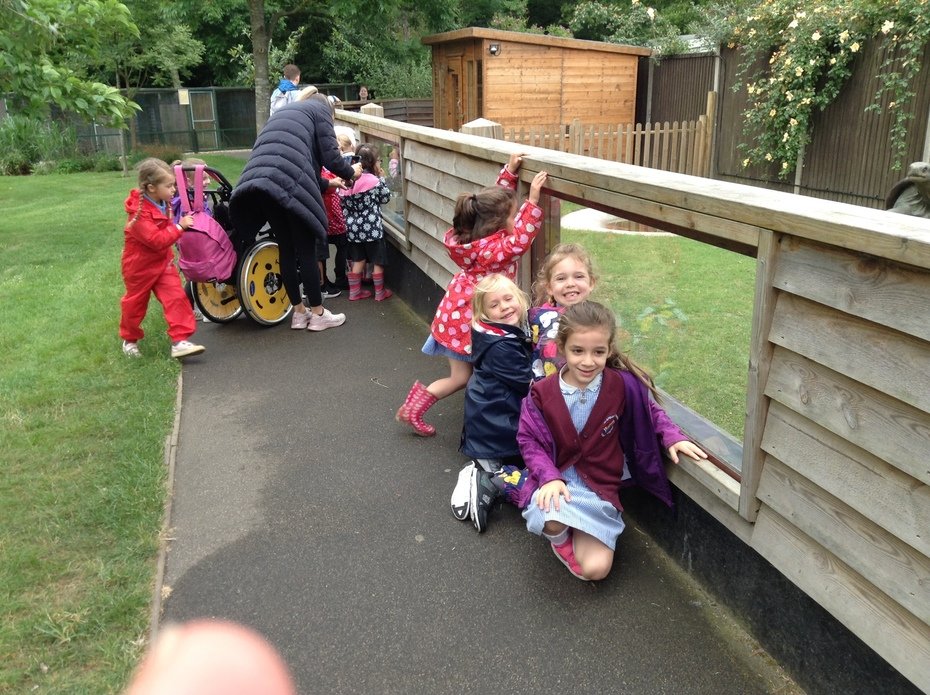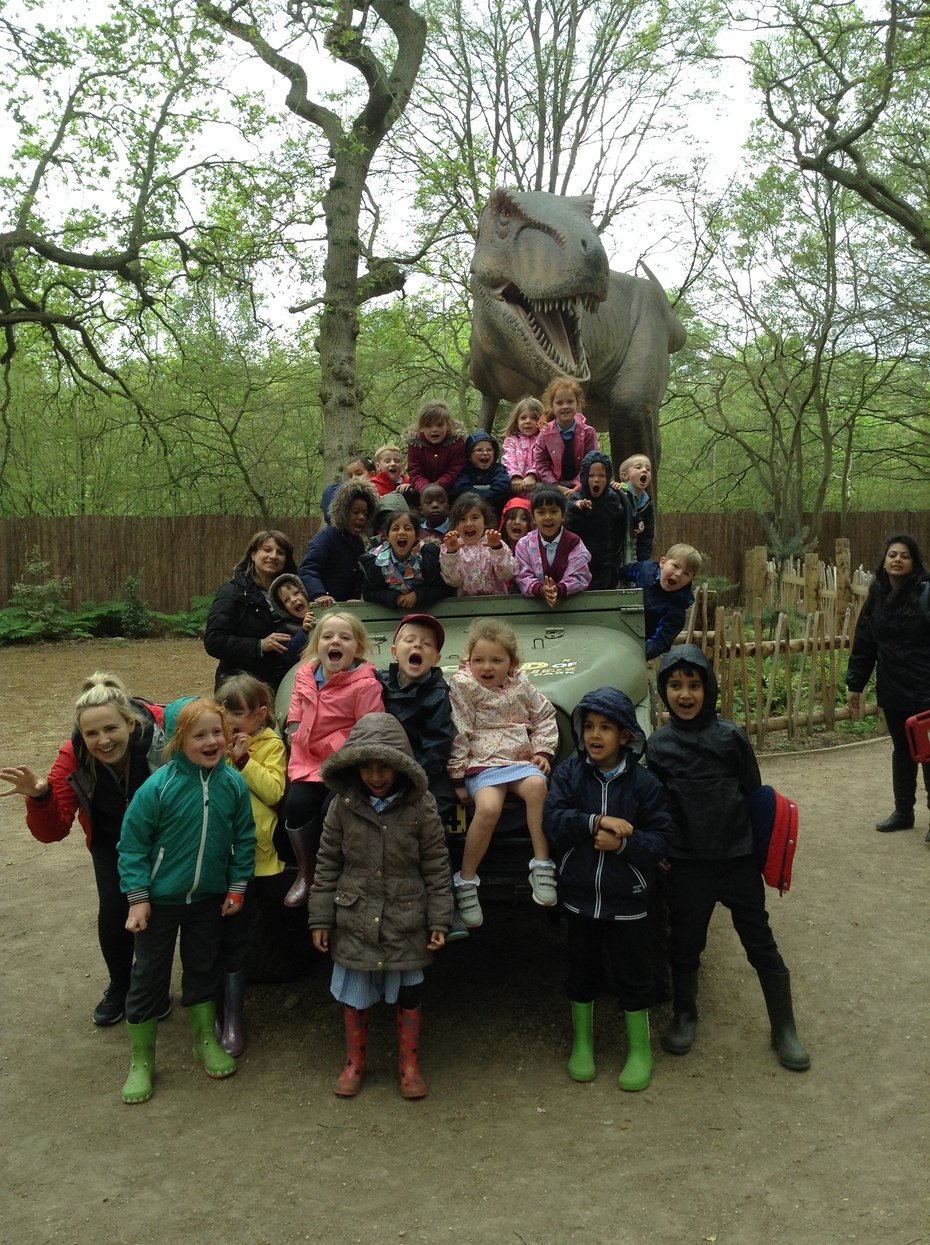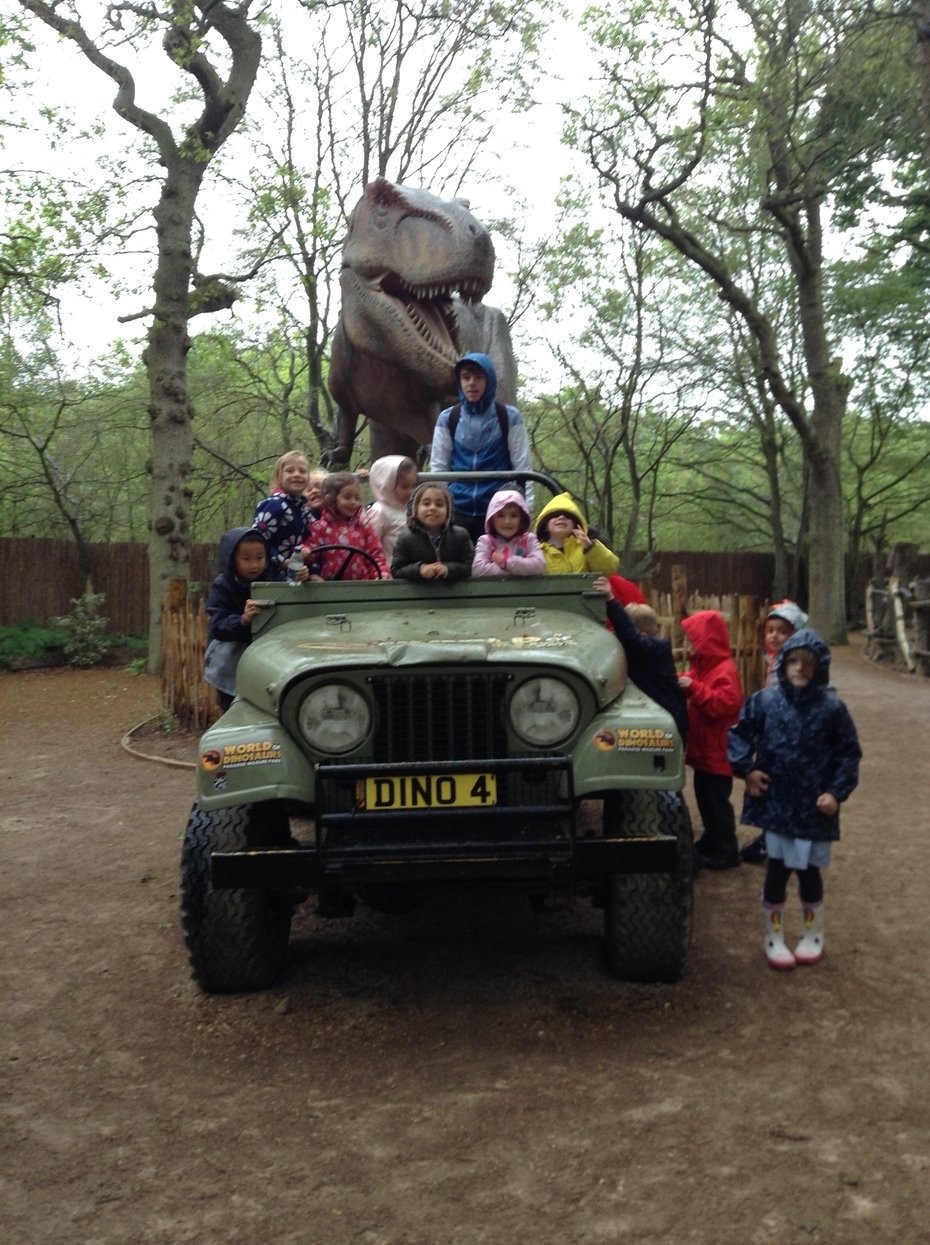 --
Mrs Whorlow
It is time to say thank you and goodbye to Mrs Whorlow who is due to have her baby very soon! But not before we played a few games and gave her some gifts for the baby and for her too. Mrs Whorlow had to change a nappy with her eyes closed and then guess the baby food flavour with a blindfold on!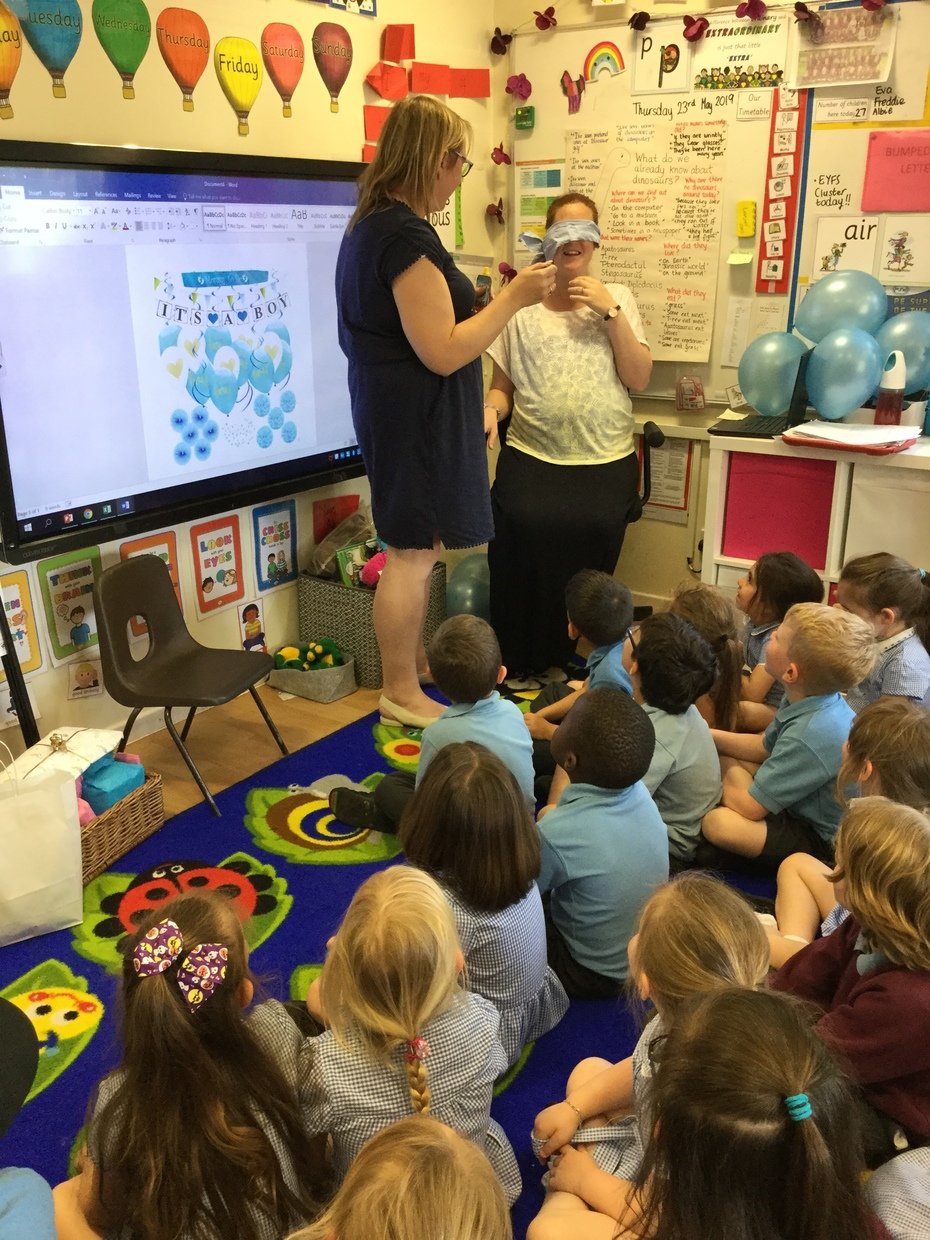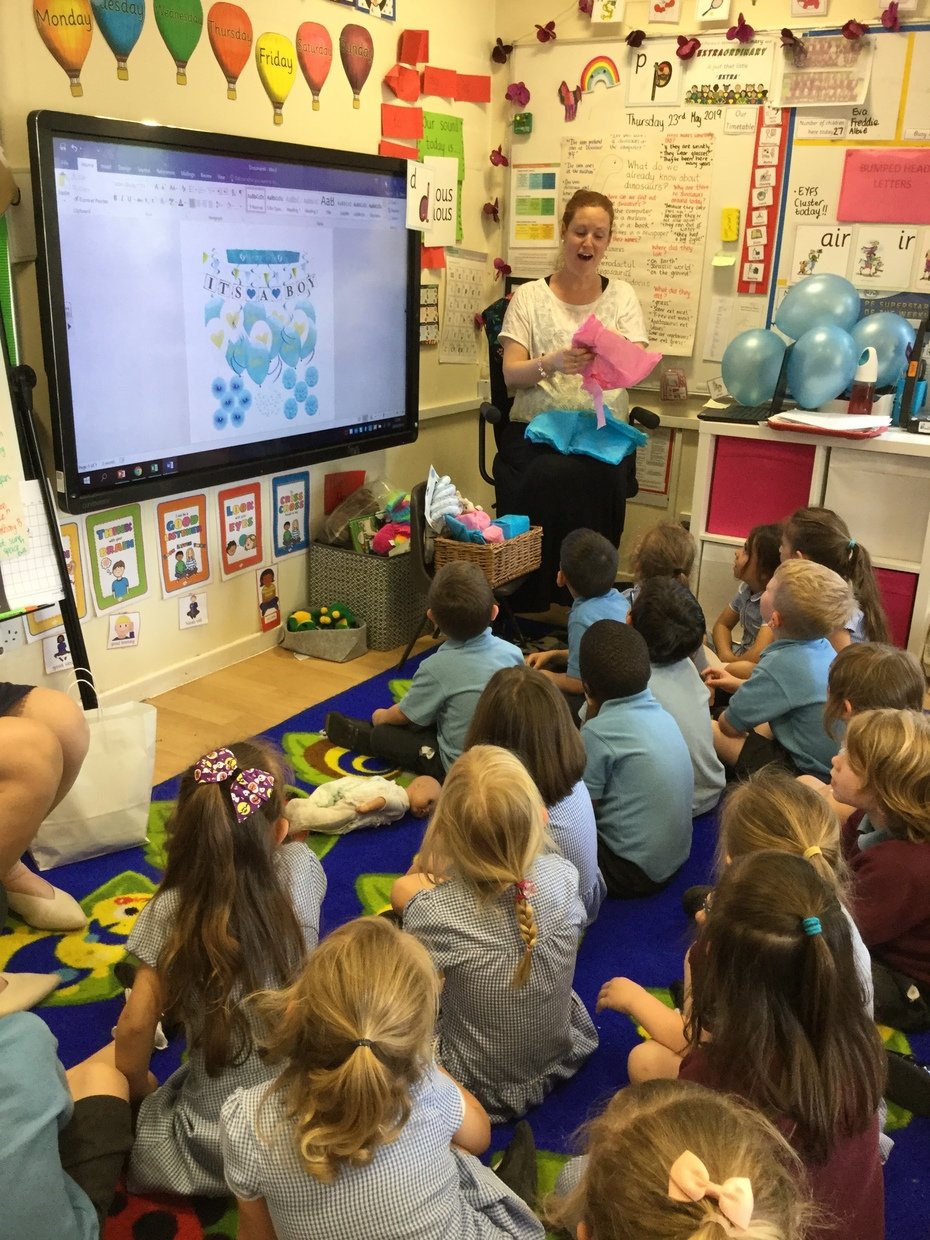 We will miss you Mrs Whorlow, come back soon and visit us!
Our learning
Summer 1 update:
We cannot believe how fast the year has flown! When the children return after the May break they will be in the last half term of Reception! Our next topic will be Space with lots of WOW experiences to look forward to! On Friday 7th June it is our Reception school trip to Paradise Wildlife Park and we are all SO excited! Especially to visit the dinosaur enclosure!! It will give the children the opportunity to reinforce their learning about dinosaurs and see how it could have been if dinosaurs still existed today. They will also encounter all of the different animals within the zoo. In maths, we will be focusing on evidencing the Early Years Goals, including doubling and halving and reinforcing teen numbers by adding and subtracting two numbers. We will also be focusing on solving practical maths problems based on the children's own interests. In literacy, we will be encouraging the children to write independent sentences and adding connectives to join their two sentences together such as; 'and' 'because' 'so' and writing some irregular common words too. Keep up with the rainbow words and climbing that rainbow!!
Chicks!
The chicks arrived on Tuesday (23rd April) morning causing much excitement among the children and staff! The incubator was installed and 11 eggs placed inside. On Wedneday morning, 4 chicks had hatched overnight! And one more hatched as the children came through the door in the morning, much to their delight! By the time the children went home 9 eggs had hatched. By Thursday morning, all 11 chicks had hatched, looking fluffy, healthy and very cute. They were transferred to the brooder box and the children continued to observe them. The chicks then spent the weekend at Miss Bransom's house, where they received lots of love and attention until returning to school on Monday morning. The children will continue to observe the chicks over the coming week and note any new changes and will also have the opportunity to hold them.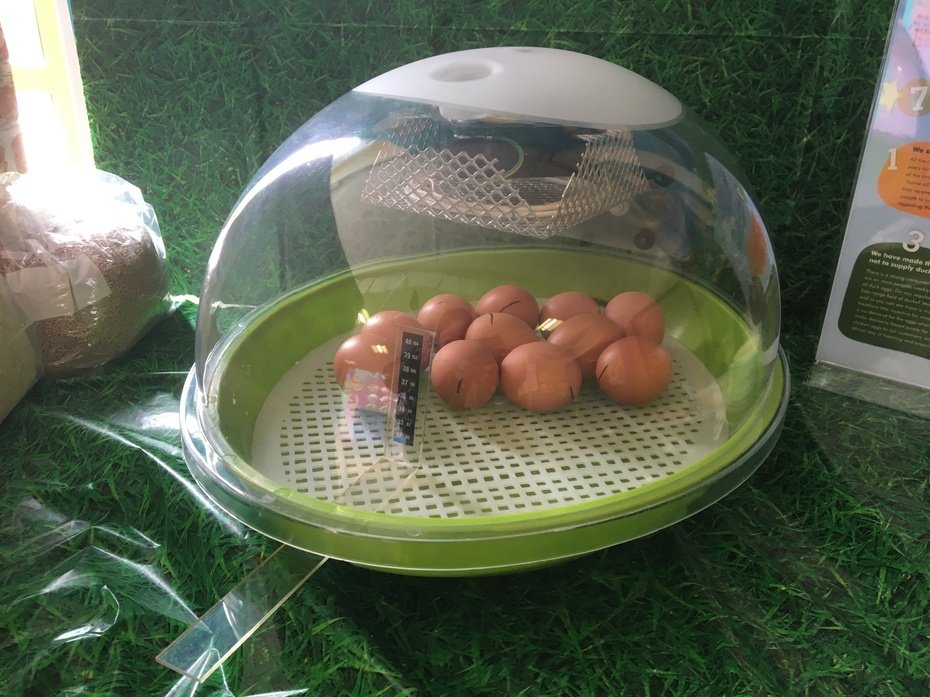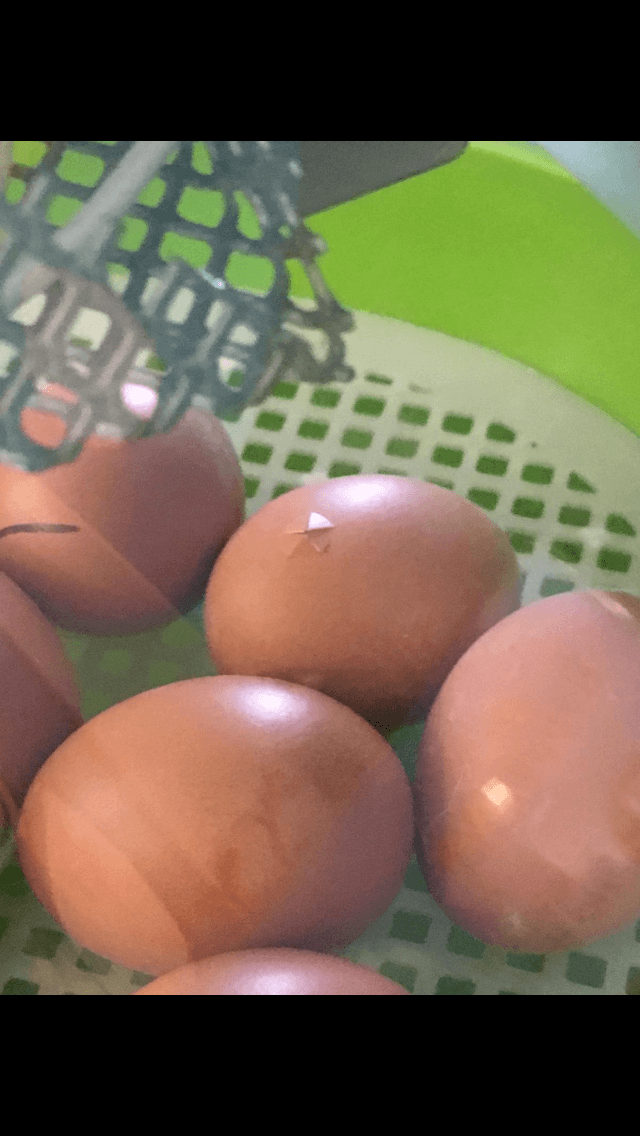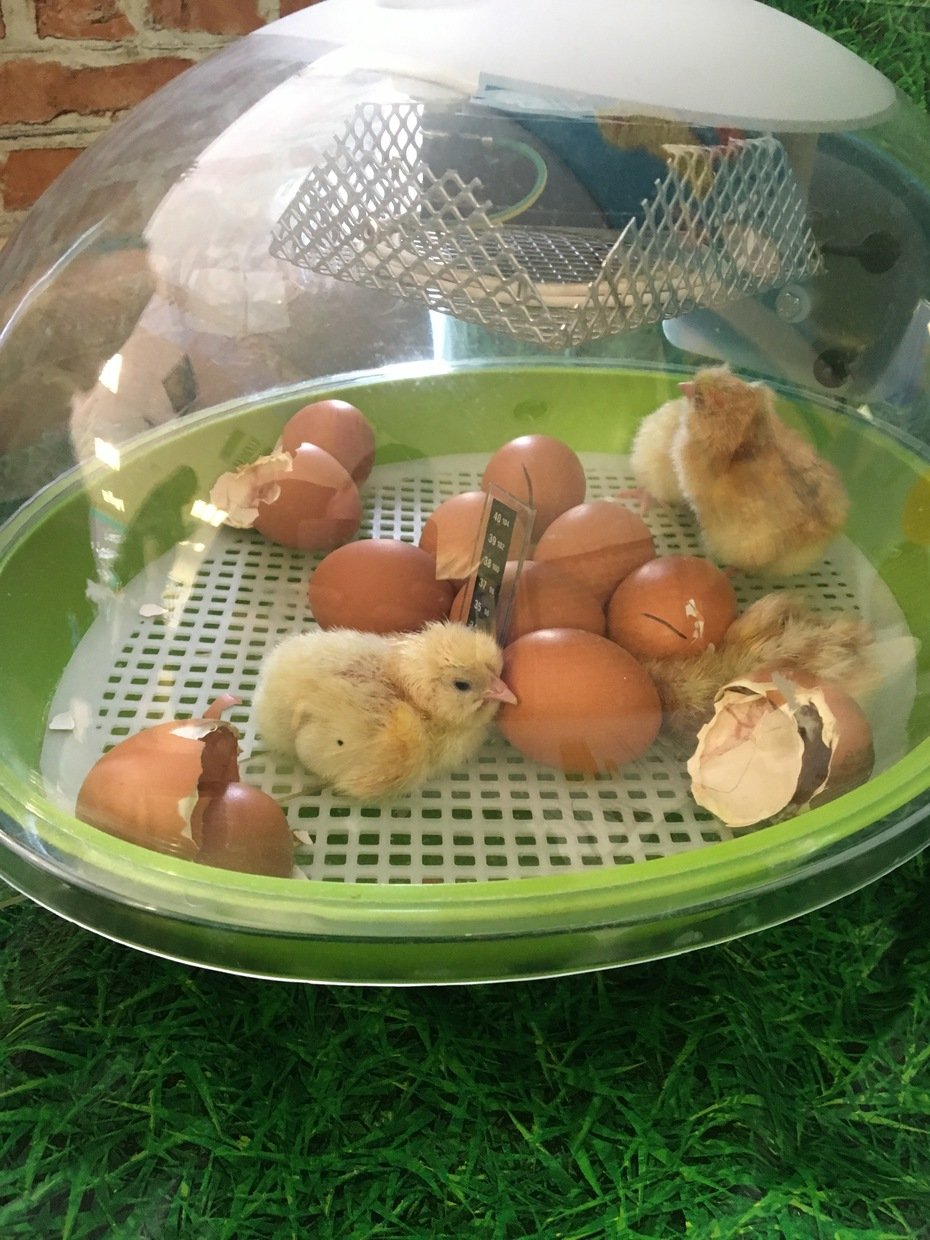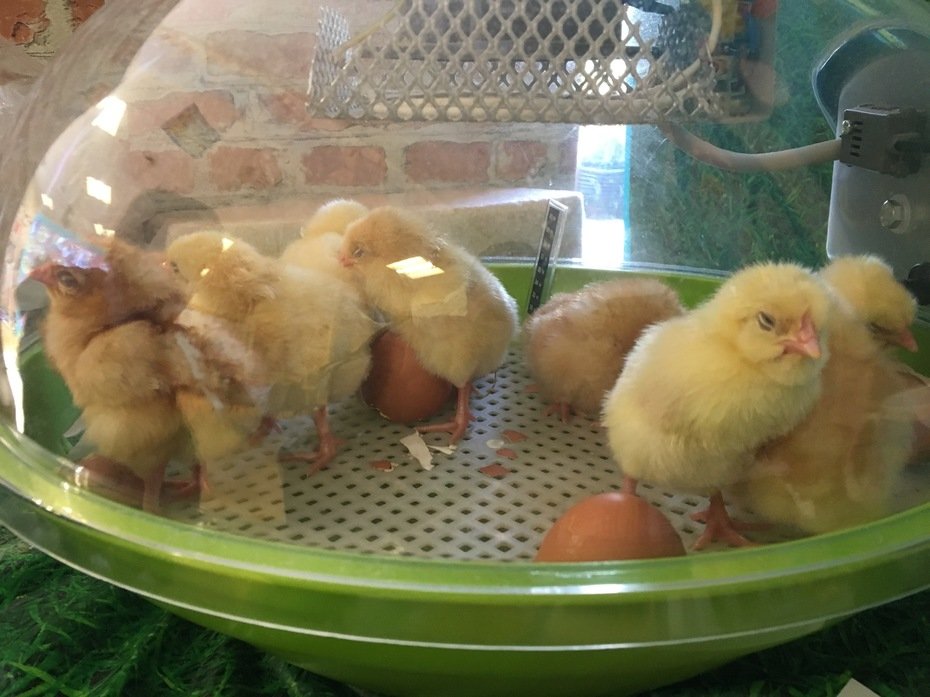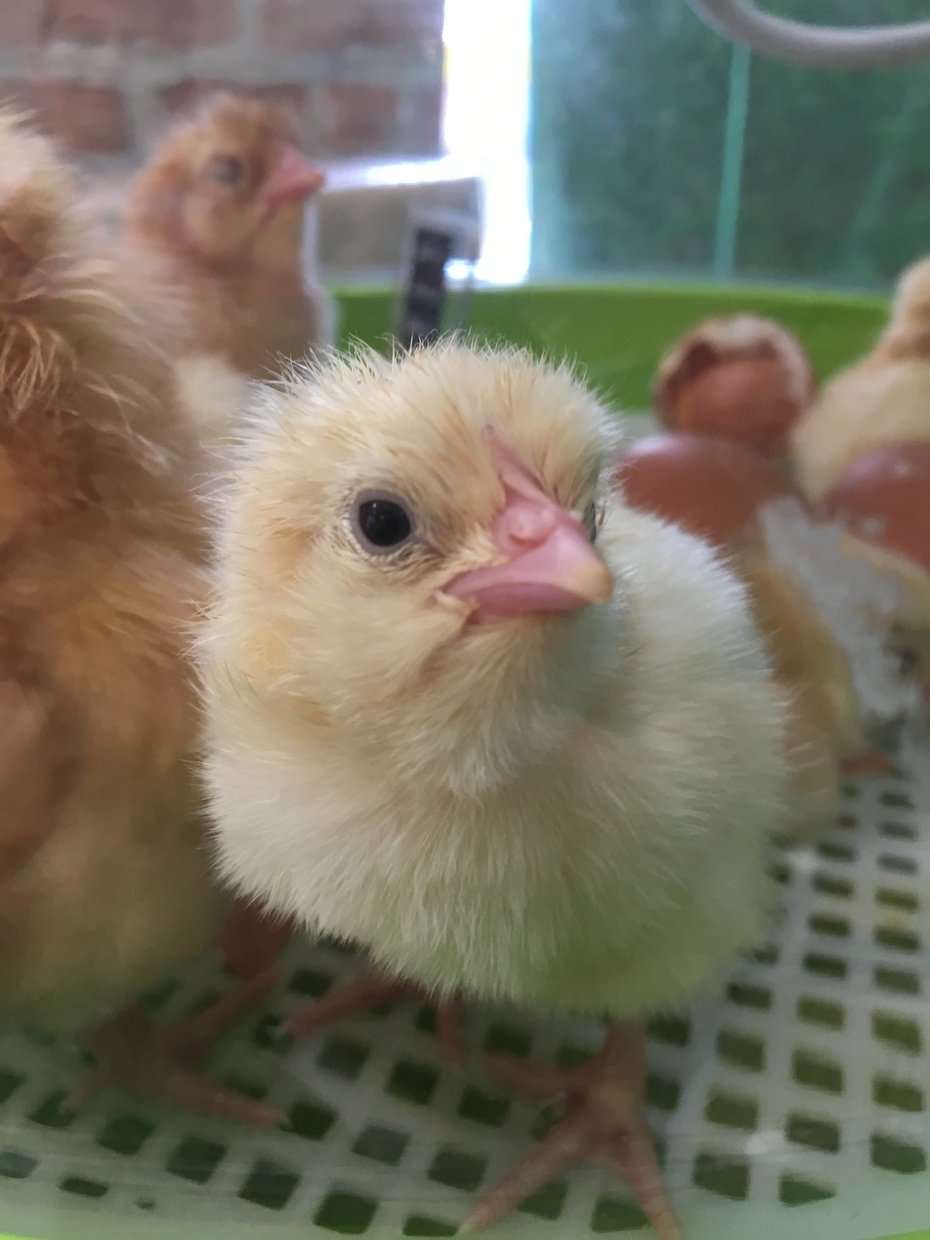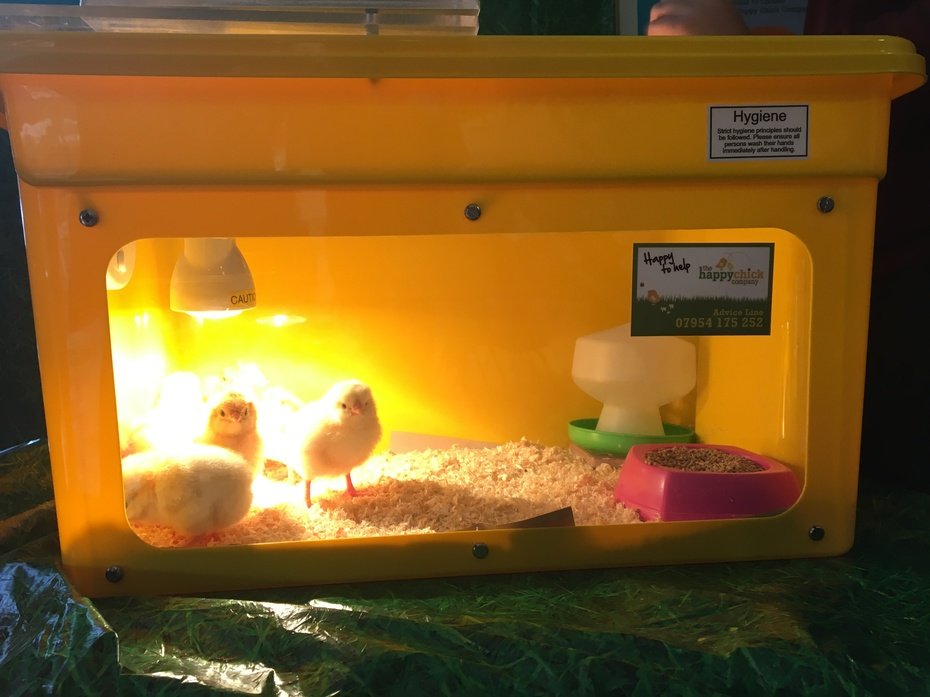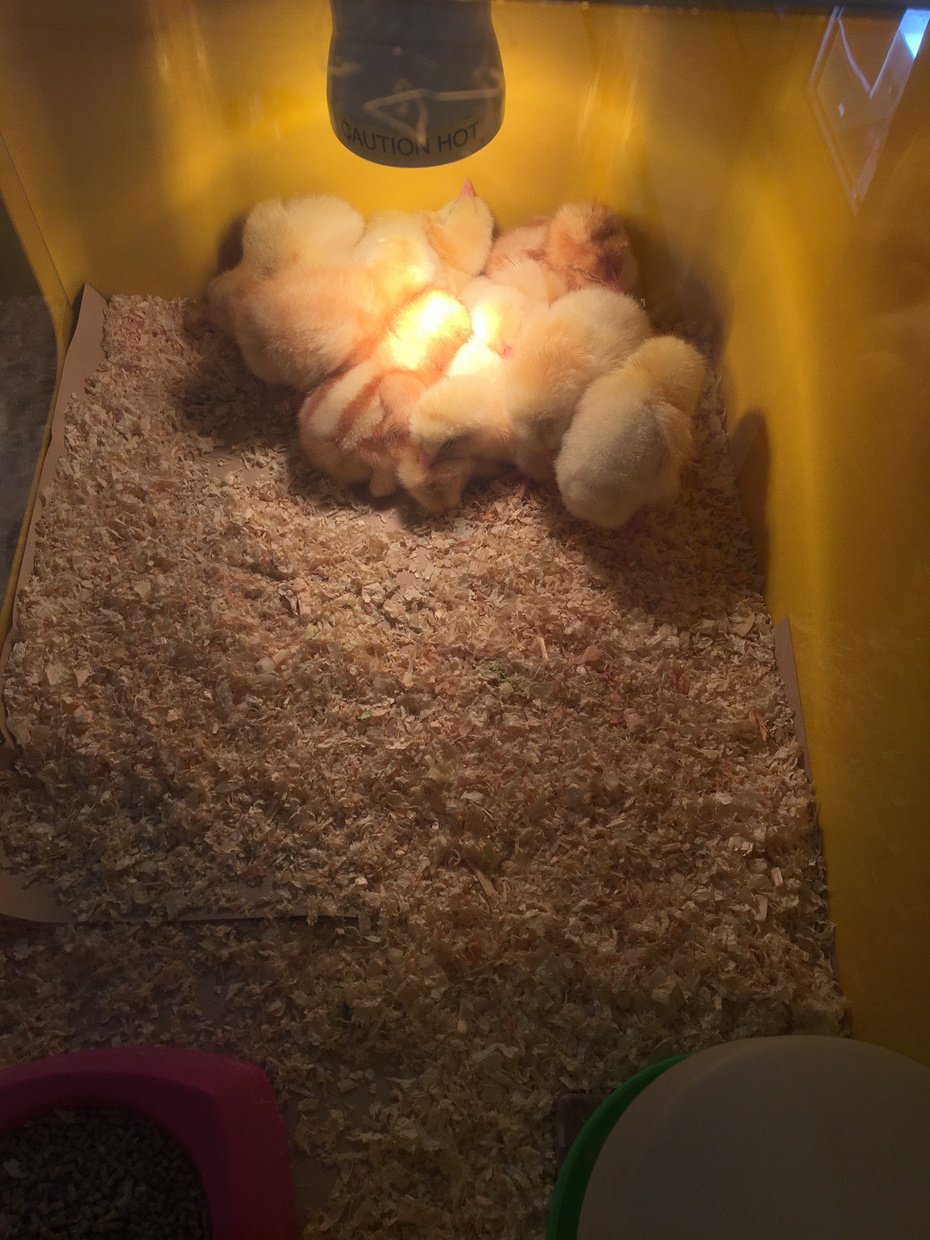 Spring 2 update 2019
This half term, the children have loved learning about traditional tales. They have been acting out the story of Little Red Riding hood, made houses for the three little pigs, played 'What's the time Mr Wolf?', made and tasted porridge among many other fun activities! We have also been learning about rhyming through games and stories. In maths we have been looking at 3D shapes and their properties and recognition of teen numbers. We also enjoyed measuring using rulers, metre sticks and even our own footprints! The children have also been taking steps towards transitioning into Year 1, such as changing their own reading books without adult support and will begin choosing their own lunches at morning registration and using the Key Stage 1 playground at lunchtime in the Summer term. We are very proud of their progress.

Mother's Day Open Morning:
We really enjoyed seeing all our Mums, Nan's and Aunties on our Mother's Day open morning. It's always nice to thank the ladies in our life for all that they do.

Gingerbread baking:
After learning about the story 'The Gingerbread man', we had a go at baking our own. The children listened to the instructions and then used the gingerbread recipe to measure out the correct amount of ingredients. After mixing the ingredients together, Mrs Shah and Miss Mountford helped the children bake them in the oven. Once the biscuits were cool, the children decorated them and then ate them all up! Yummy!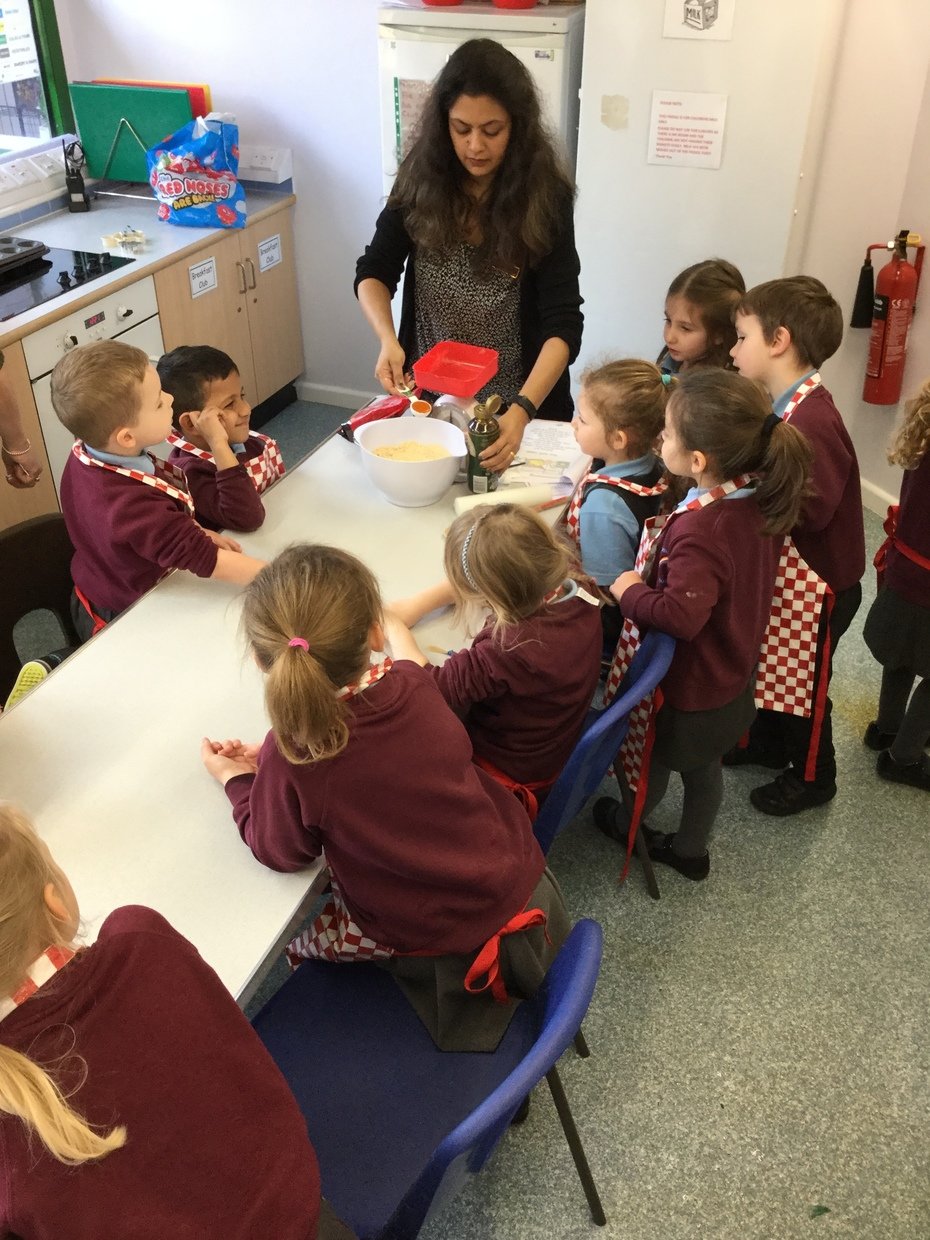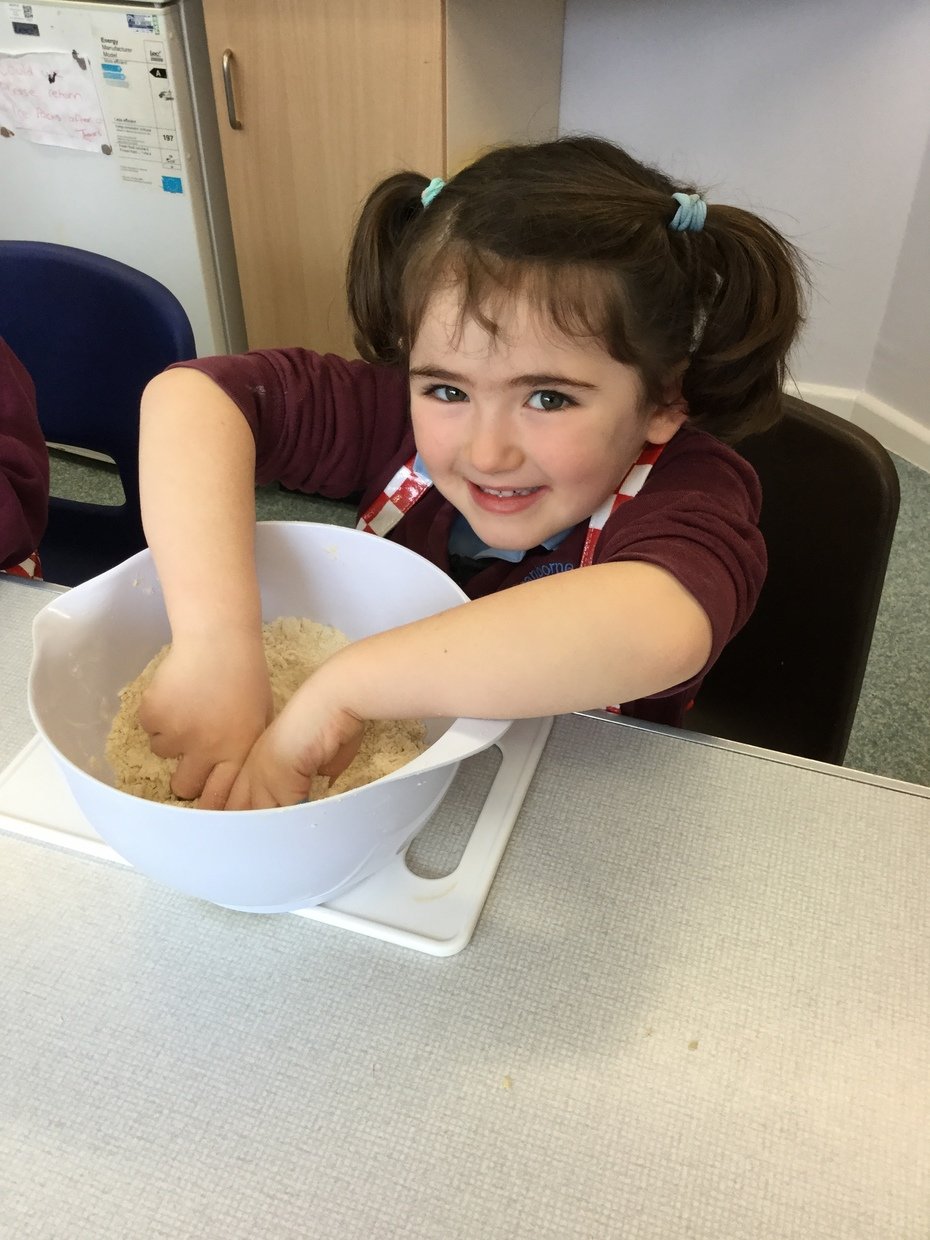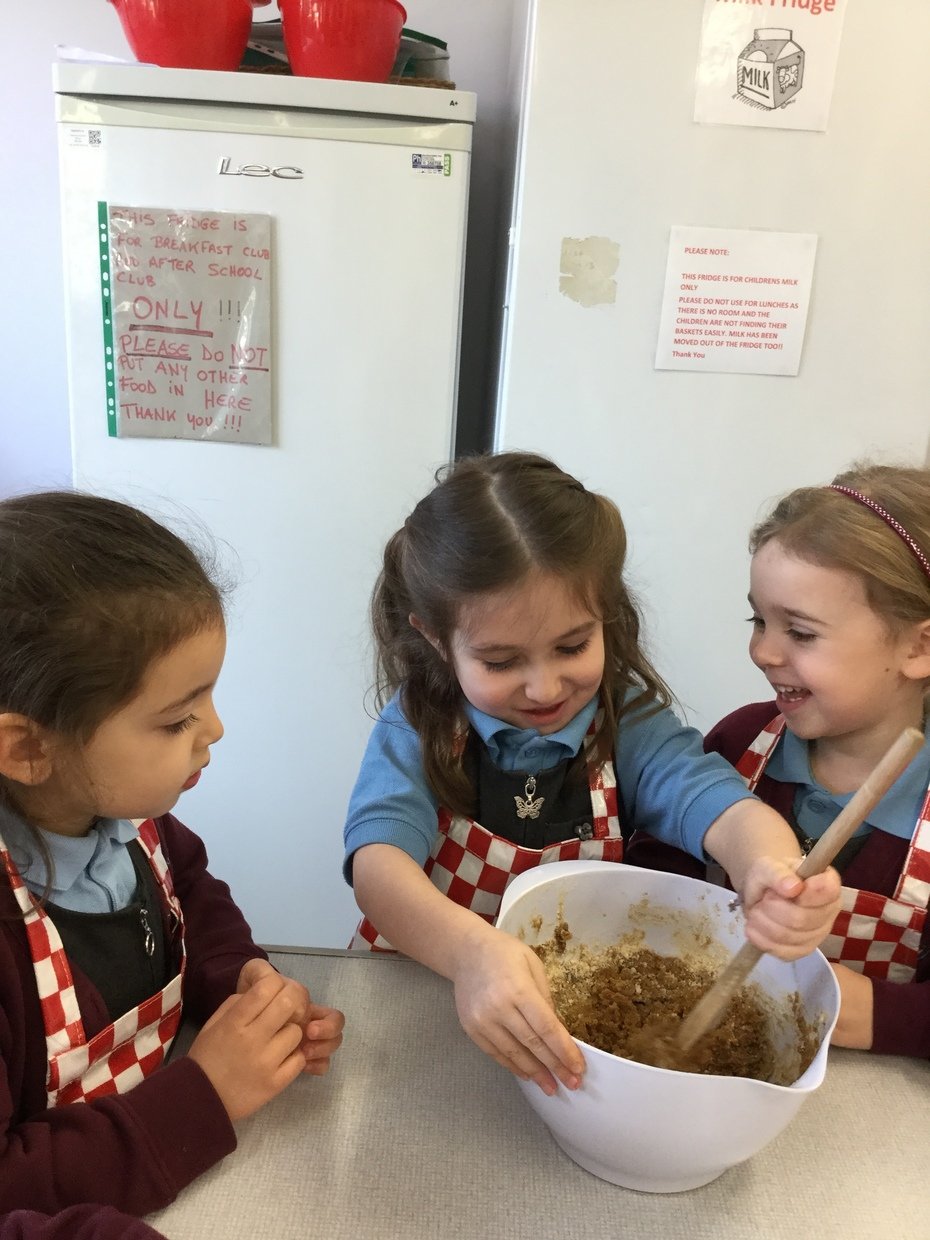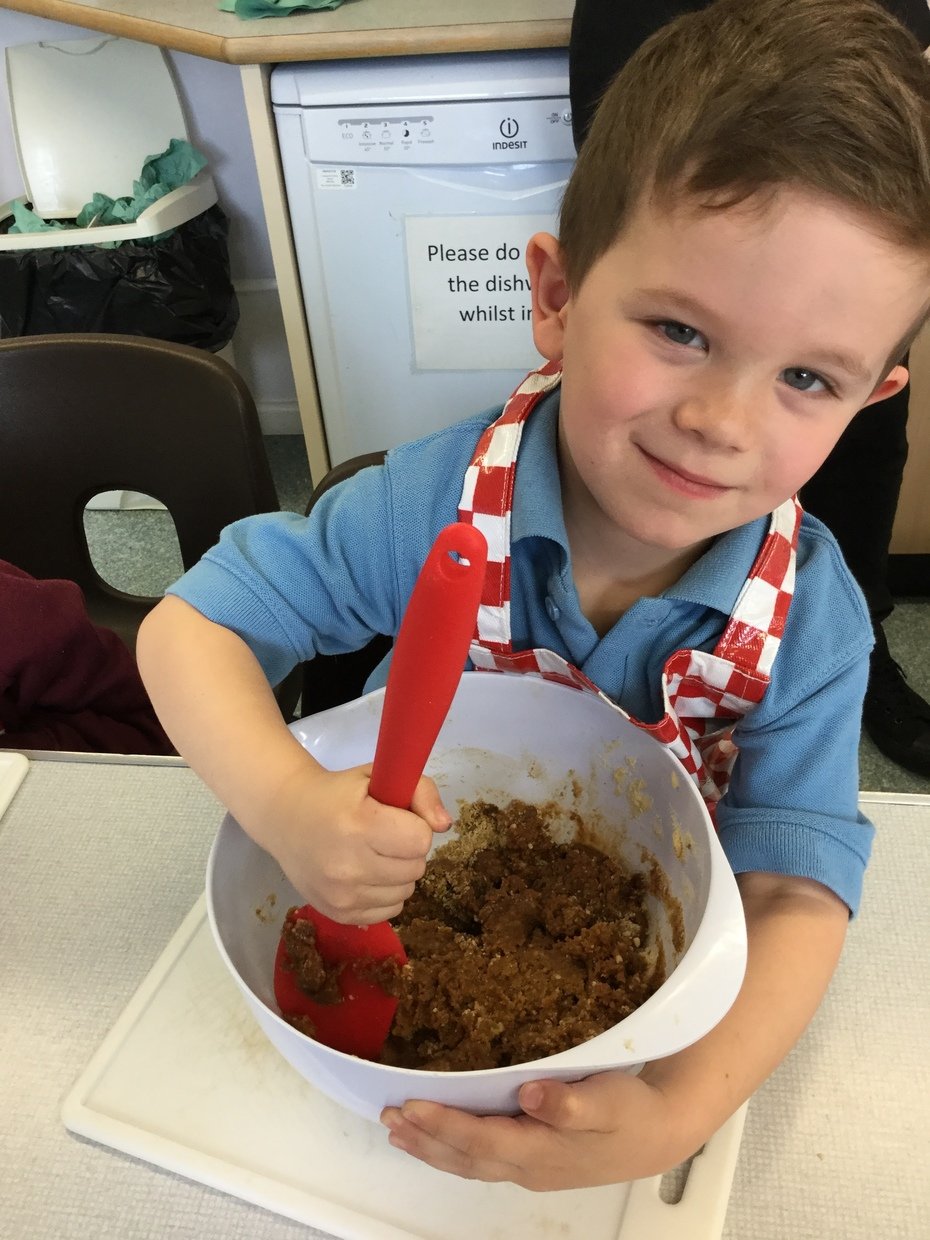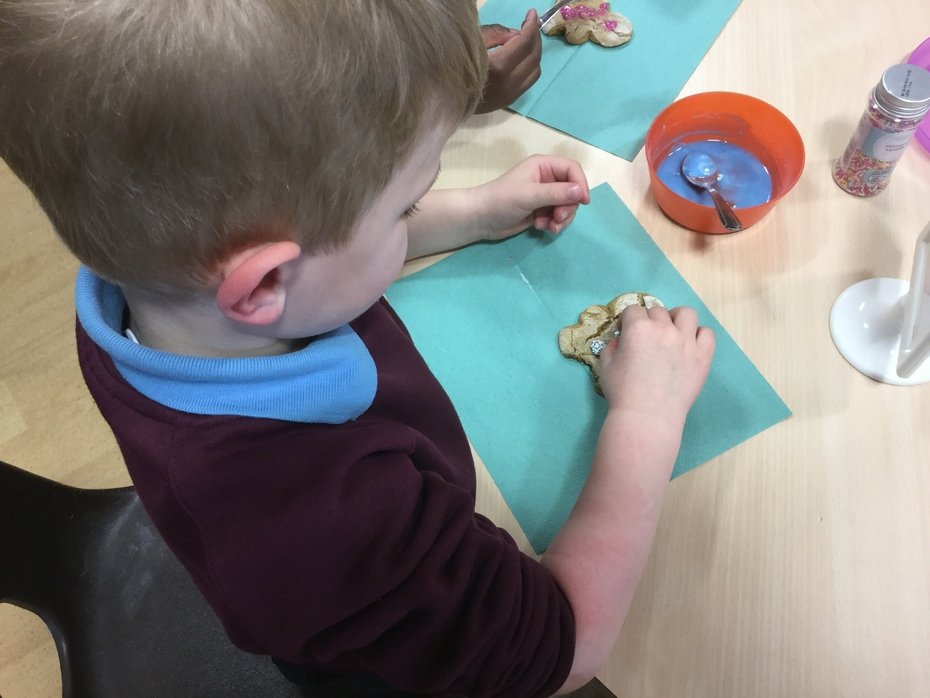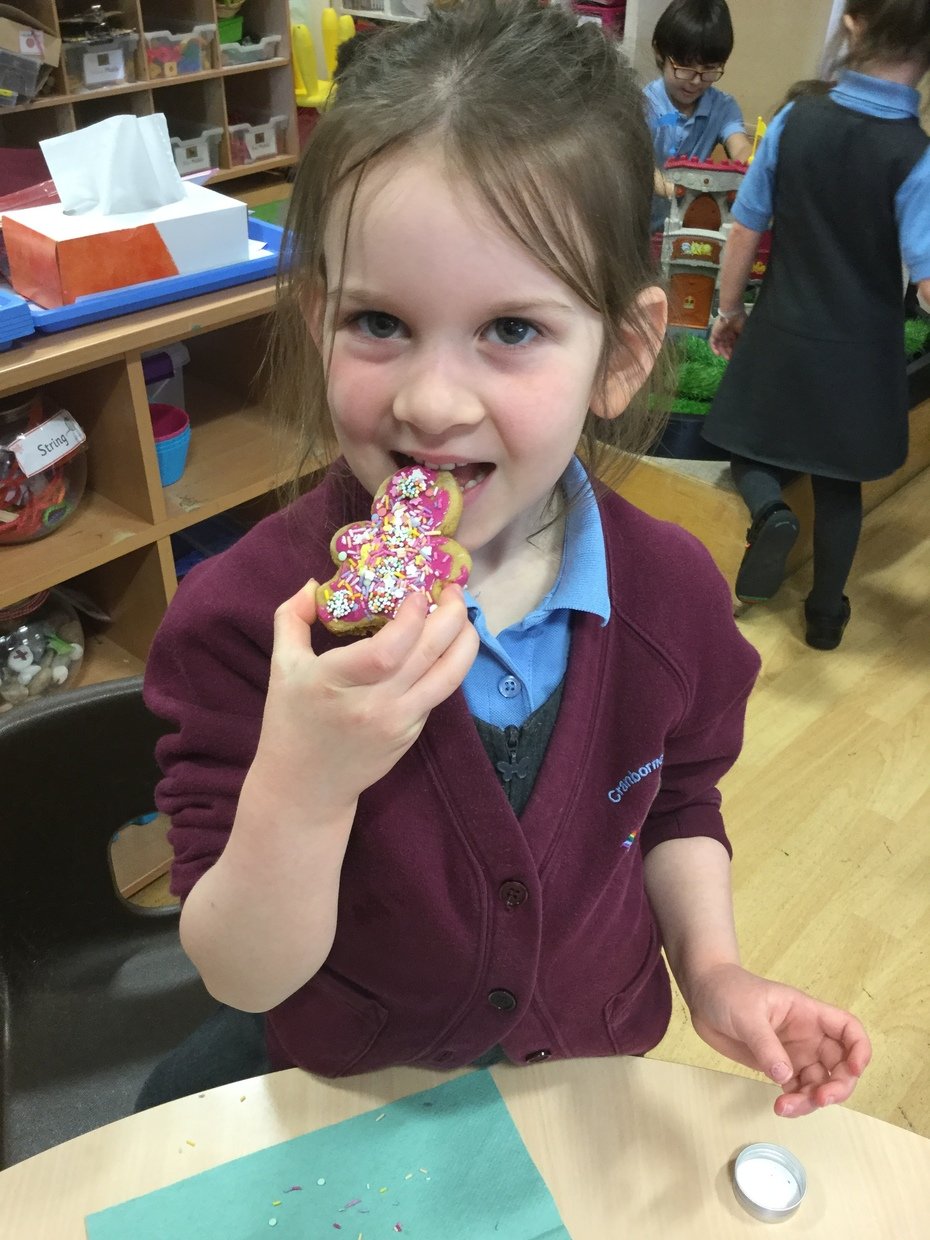 On our first day back in the Summer term, we will receive a very egg-citing delivery! We cannot wait to meet our new little visitors, we just know that the children will think they are egg-cellent and everyone will have a cracking time.
In English we will be focusing on retelling stories to help us develop our story language and our oral story telling skills. This will help us to tell our own stories through the use of helicopter stories. ELG: Children use their phonic knowledge to write words in ways which match their spoken sounds. They also write some irregular common words (High frequency words). They write simple sentences which can be read by themselves and others. Some words are spelt correctly and others are phonetically plausible. Please refer to the Early Learning Goal objectives sheet which was sent home with the newsletter.
In Maths we will be covering the ELGs: To count reliably with numbers from 1 to 20, place them in order and say which number is one more or one less than a given number. Use quantities and objects to add and subtract two single-digit numbers and count on or back to find the answer. Solve problems, including doubling, halving and sharing e.g. 4+8, 9-5.
In P.E. on Friday mornings, we will be practising for our sports day event on Friday 14th June. Fingers crossed for the lovely weather that usually get!
Spring 1 update 2019
We've had a great half term travelling to Africa on the plane and to Antarctica on a cruise ship! We've learnt all about the climates in both countries as well as the animals and read stories relating to the different cultures. The children have used lots of fantastic vocabulary and some amazing conversations have taken place. The children have also been learning how to add and subtract and become marvellous at maths!
Next term our topic will be based on traditional tales with an added focus on rhyming. We encourage parents to read rhyming and traditional tales to your children over the half-term to prepare them for our next exciting topic! In maths we will be continuing to focus on number recognition for teen numbers and the correct number formation. We will also be looking at measuring e.g. comparing the lengths of two to three objects and using resources such as footprints, unifix cubes and duplo to measure and compare.

The next half-term welcomes some exciting events; World Book Day, Friends of Cranborne Easter Egg hunt and a very special Mother's Day Event for our fabulous Mums! Letters will be sent home soon.
Autumn update 2018
The children have now completed their first term in Reception! And what a busy term it has been. They have developed new friendships and learned new routines. They take pride in their classroom and outdoor environment by tidying things away and keeping it clean and safe for each other. The children have learned lots of new letter sounds (phonemes) and begun to blend these together to read and write....AND produced an amazing Christmas performance! The Reception staff are very proud of how many different things the children have conquered over the Autumn term.
When the children return in January for the Spring term, we will be looking closely at hot and cold countries. We will be learning about the environment of those countries, who might live there and the difference in cultures. As always, we will apply our phonic knowledge to all of our learning, focusing on correctly forming all the letters in Set 1 of Read Write Inc. Please refer to the RWI sheet in the yellow homework folders to support your child with this at home.
Maths - we will be focusing on counting to 20 and forming those numbers correctly. We will also be revisiting one more and one less than a number. There are lots of fun activities to discover on Mathletics. You will find your child's unique username and password on the inside front cover of their reading record.
_
Phonics and Reading Resources
Useful websites:
http://www.focusonphonics.co.uk/sound.htm (for pure sounds)
http://www.ruthmiskin.com/en/resources/sound-pronunciation-guide/ (for stretchy and bouncy sounds)
http://www.phonicsplay.co.uk/ (for games and resources)
https://www.oxfordowl.co.uk/reading-owl/find-a-book (for reading books and resources)