Welcome to Year 1!
Happy New Year!
We hope you've had a lovely Christmas break and are feeling refreshed and ready for the Spring Term. We want to say a huge thank you for your generous cards, gifts and kind words. We hugely appreciate them all. We look forward to seeing you all on Friday 6th January!
Parent information evening slides
Please note, our PE days for the Spring term are Tuesdays and Thursdays.
Homework
Every week, we will set spelling, English and Maths homework on this web page. Please complete this in your green homework books and return to school the following Tuesday. Thank you.
1R - We have sent home some lines on black paper in reading records for the children to learn for our class assembly on Friday 3rd February. We would really apprecaite it if you could help your child to learn their lines! Thank you :)
Spelling
our
people
great
called
Please remember to recap the spellings on your highlighted spelling sheets.
English
This week, we have introduced joins to our handwriting when writing digraphs and trigraphs. Please practise this using the handwriting sheet in your homework books.
Maths
This week, we have been focussing on addition. Please complete the activities set on Mathletics.
Please practise logging on to your Purple Mash accounts! At this point in the year, all children should be able to log on independently.
Home learning
In the case of bad weather and school closure, please see the list of activities below.
The work below will support your child in the key areas of arithmetic, reasoning, and phonics.
As well as these activities, you can make use of Mathletics ( for Maths ) and Purple Mash (for reading and other curriculum games). Please also see the Phonics screening papers and our educational games and songs.
You can use ' PE with Joe Wicks' you keep you moving. His YouTube Channel is: https://www.youtube.com/playlist?list=PLyCLoPd4VxBuS4UeyHMccVAjpWaNbGomt
| Name | |
| --- | --- |
| a-e Phoneme Spotter Postcard.pdf | Download |
| Arithmetic challenge 1.pdf | Download |
| Arithmetic challenge 2.pdf | Download |
| Arithmetic challenge 3.pdf | Download |
| Arithmetic challenge 4.pdf | Download |
| Arithmetic challenge 5.pdf | Download |
| e-e Phoneme Spotter Postcard.pdf | Download |
| i-e Phoneme Spotter Postcard.pdf | Download |
| o-e Phoneme Spotter Postcard.pdf | Download |
| Phase 5 Split Digraph Phoneme Spotter Postcard.pdf | Download |
Spring Key Dates:
Thursday 5th January 2023 - INSET
Friday 6th January 2023 - children return to school
Friday 3rd February - 1R Class Assembly, 9am
Monday 16th - Friday 20th January - FoC Penny War Week
Friday 10th February - FoC Friendship Disco
Monday 13th - Friday 17th February - HALF TERM BREAK
Monday 20th February - INSET & Parent Consultations
Thursday 2nd March - World Book Day
Thursday 30th March - FoC Easter Egg Hunt
Friday 31st March - Last Day of Term (1:15pm finish)
Monday 3rd April - Friday 13th April - EASTER BREAK
Monday 17th April - INSET
Tuesday 18th April - children return to school
Phonics
Phonics is a very important part of the Year 1 curriculum. This is why we dedicate three sessions a week to teach stand alone phonics lessons following the Read Write Inc. scheme. We teach the children initial sounds, and set 2 and 3 digraphs and trigraphs. A digraph is two letters together that make one sound such as 'sh' 'ee' and 'th'. A trigraph is three letters together that make one sound, such as ''igh' and 'air'. We learn a new sound in each of our phonics sessions. We start by identifying the sound in a word, we then write it down (with focus on letter formation), and then have a go at reading a short story with this sound used frequently in it.
Below is the order we will be teaching the sounds.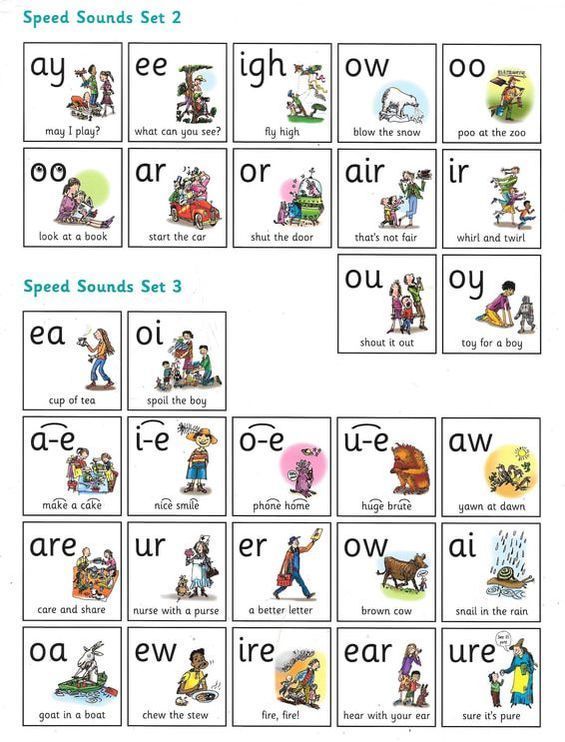 Our learning for Spring Term...
Maths
In the Spring Term, we will be covering the following:
Adding using 'Think 10'

Subtraction using 'Think 10'

Equality and Balance

Part or Whole Unknown

Language and Problem Solving (part or whole unknown)

Comparison (difference, more, less, fewer) including Statistics

Measures

Coins and Combinations to 20p

Ordering and Comparing
Mental fluency:

Recalling number bonds to 20 such as 18 + 2 and 4 + 16

1 more and 1 less than a given number up to 50

Counting to 100 and back

Double and halves to 20




Counting in 2s, 5s and 10s
Geography
In Geography this term, we have been looking at the area surrounding our school. We have looked at a map of the school grounds and will identify natural and man-made features. We will be creating our own symbols and making our own maps.
History
In History this term, we will be learning about the history of toys. We will be thinking about how toys have changed over time and will be examining how toys are different now to how they were in the past, using artefacts to help us. We have an exciting 'Toys off the Page' day planned for the children to practically explore toys from the past. We will also have a visitor coming to talk to the children about toys from other cultures.
Art
In art this half term, we will be studying the work of Yayoi Kusama. We will be taking inspiration from her style of artwork to create our own interpretations of her work using colourful dots. Through this sequence of lessons, the children will develop their cutting, drawing, painting and designing skills.
Key information:
Please remember that all children need a named water bottle in school every day.

Let your child's teacher know if someone other than you is collecting your child or call the office.
Homework:
Set on a Thursday, and due on a Tuesday.

This will be skills based. Maths, grammar, spelling and reading.
English
We are so impressed with the progress made across the year group during the Autumn term. The children have been focusing on the basics of sentence structure and building simple sentences independently using capital letters and full stops. As we move forward into the Spring term, the children will be encouraged to continue to write independently and will be writing multiple sentences to create longer pieces of writing. Our focus books for this term are Lost in the Toy Museum (which links with our History topic), Jack and the Beanstalk, The Disgusting Sandwich and And Tango Makes Three.
Letter formation,handwriting and presentation
Letter families
Curly caterpillar letters: c, a, o, q, g, d, e, s, f. All of these letters start in the middle of the line and start with a c shape and then you carry on with the rest of the letter.
One armed robot letters: r, m, n, h, b, k, p. For these letters you need to start at the top of the letter and travel down and back up again and then over.
Ladder letters: l, I, j, t, u, y. All of these letters you need to start at the top of the letter and travel down.
Zig zag letters: v, w, x, z. These letters are all very straight and have no curves!
When writing on a line all letters should be on the line. Some letters have descenders where part of the letters go under the line, such as: y,g,q, p.
Some letters have ascenders where part of the letter is taller than the rest, such as: d, h, t, b.
Capital letters should always be bigger than the other letters.
Science
In the Spring term, we will be learning about materials. The children will distinguish between an object and the material from which it is made. They will identify and name a variety of everyday materials, including wood, plastic, glass, metal, water, and rock. They will learn to describe the simple physical properties of a variety of everyday materials and will compare and group them on the basis of their simple physical properties.
Computing
Our Spring term units are called Maze Explorers and Animated Stories. During our first topic of Maze Explorers, the children will learn to create and correct a set of instructions and will learn vocabulary associated with this, (eg. algorithm and debugging). In the second unit, the children will be introduced to e-books on Purple Mash. They will add animations and sound to their own stories and will learn to change backgrounds and copy and paste images to create their own e-books.
PSHE
In PSHE this term, we will be covering two units called 'Dreams and Goals' and 'Healthy Me'. In the dreams and goals topic, we will be discussing our aspirations and learning the best strategies to achieve our goals. We will also be considering how to overcome set backs and to keep a positive attitude if things don't always go the way we want them to.
In the 'Healthy Me' topic, we will be learning about how to keep ourselves healthy. We will be focussing on living a healthy lifestyle like eating healthy foods, drinking lots of water, getting lots of sleep and exercising.
Physical Education
This term, our indoor PE unit will be Dance, where the children will be learning to travel in different ways across the space and will be learning to move their bodies to the beat of the music. Our outdoor unit will be fundamental movement skills, where the children will be learning to hop, skip, catch, throw and travel safely at different speeds.